Jurassic World: Dominion Dominates Fandom Wikis - The Loop
Play Sound
This is a work of non-fiction.
Unlike other fictional universes, the Doctor Who universe is created solely by fiction. To us, this is not a valid source. Information from this source can only be used in "behind the scenes" sections, or on pages about real world topics.
The Doctor Who Technical Manual was a Doctor Who reference book published by Severn House.
Publisher's summary
[
]
Ever since 1963, the Doctor has been fighting alien tyrants, vicious monsters and emotionless robots bent on cosmic domination. But it's not only his hair-raising adventures that have made Doctor Who the longest-running science fiction series in world television. It is also its endless array of marvellous machines.
Now, in this totally new concept in Doctor Who literature, that gadgetry is made available to the Doctor's millions of fans.
Totally accurate plans and drawings at last reveal the inner workings of the Daleks, of K9, of the Doctor's tool kit, and dozens more.
Best of all there are the fullest possible plans for making your own model TARDIS!
This is the only book that opens the true world of the Time Lords to its readers. No friend of Doctor Who can afford to be without it!
Subject matter
[
]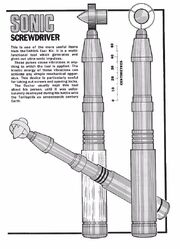 Some annotated line drawings (in blue ink) with some textual content.
Contents
[
]
Notable features
[
]
This book contains 4 pages of colour photographs. Some of these photos include K9, Daleks, the TARDIS, Cybermen, the Whomobile and the Titan/Earth shuttle.
The introduction was written by John Nathan-Turner
This was one of a series of titles released during the 20th anniversary year, as a part of JNT's desire to capitalise on the programme's success and merchandising opportunities.
The Tool Kit section details the content of the TARDIS tool box even if not identified onscreen: master drone clamp, laser, pen torch, universal detector, neutron ram, influx booster stabiliser, stalos gyro, moog drone clamp, magnetic clamp and the destroyed sonic screwdriver.
Publication history
[
]
Notes
[
]
This title was released priced £4.95 (UK)
To those familiar with the range of commercially available Star Trek reference titles available at the time and their added insight into the television series, this title must have been a disappointment. The content is at times sparse (for example a full page, line drawing of the Emperor Dalek or a Movellan) and adds little to our understanding. Similarly six pages given over to a side and front elevation of Daleks Type I, III and V are without reference or comment. Even any explanation of why they are Type I, III or V is not mentioned.
Many of the references are obscure (the Space Freighter for example, from where / when?), and the book is not arranged into any particular way – alphabetically, chronologically or even by type.
However, on the positive side, this was indeed a first of its kind in Doctor Who publishing, and it should be remembered that at the time, any information on the rich history of the series was confined to the pages of Doctor Who Magazine (which incidentally DID print the

K9 blueprints

in full in one of its very early issues).
Mark Harris later expanded the final three pages of the book ("Build a TARDIS") into its own title,

Build the TARDIS

, a cut-out book with already coloured cut-outs.