The Destination Wars was the first audio story in the anthology The First Doctor Adventures: Volume One. It was written by Matt Fitton and featured David Bradley as the First Doctor, Jamie Glover as Ian Chesterton, Jemma Powell as Barbara Wright and Claudia Grant as Susan Foreman.
Publisher's summary
Edit
The TARDIS arrives in a gleaming utopia in the Space Year 2003. Has the Doctor truly brought Ian and Barbara home, to glimpse their future?
The world owes much to its legendary Inventor, and Susan finds herself face to face with the great benefactor. But soon, the time travellers are in a world at war and the Doctor must confront his past.
Journey to the Future (1)
Edit
to be added
The Father of Invention (2)
Edit
to be added
The Destination Wars (3)
Edit
to be added
Prisoners of Time (4)
Edit
to be added
References
Edit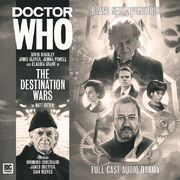 to be added
Continuity
Edit
External links
Edit
Community content is available under
CC-BY-SA
unless otherwise noted.