The Destination Wars was the first audio story in the anthology The First Doctor Adventures: Volume One. It was written by Matt Fitton and featured David Bradley as the First Doctor, Jamie Glover as Ian Chesterton, Jemma Powell as Barbara Wright and Claudia Grant as Susan Foreman.
Publisher's summary
Edit
The TARDIS arrives in a gleaming utopia in the Space Year 2003. Has the Doctor truly brought Ian and Barbara home, to glimpse their future?
The world owes much to its legendary Inventor, and Susan finds herself face to face with the great benefactor. But soon, the time travellers are in a world at war and the Doctor must confront his past.
Journey to the Future (1)
Edit
to be added
The Father of Invention (2)
Edit
to be added
The Destination Wars (3)
Edit
to be added
Prisoners of Time (4)
Edit
to be added
References
Edit
Space Years are based on how many years have passed since the humanoid ancestors of Destination's inhabitants left for space.
The TARDIS arrives in Space Year 2003. The Master brings them to Space Year 2015, where war has broken out (Robac having died in the first year of the war, Space Year 2009), and the Doctor stays behind until Space Year 2017 to help mend the peace.
The Doctor believes Destination, on the farthest arm of its galaxy, is billions of light-years from the Milky Way.
The Dalmari are native to Destination.
The citizens of Destination are humanoids, but not Earthlings. However, the Master based their society on Earth. As such, they have popcorn and oak trees, which exist only on Earth. They have plasma batteries.
The Master's servor robots are bullet, laser, and plasma-proof.
The Master suggests that Ian and Barbara are suffering from Stockholm syndrome in relation to the Doctor's kidnapping of them. He realises that with Ian being from 1963, he would be unaware of the term.
The Master claims it took Destination's ancestors almost two millennia to cross one star system. Robac mentions that they spent most of that time in cryo-sleep.
The Master influences the people of Destination to develop the technology to split the atom, as he requires nuclear fission, via a fission bomb or nuclear warhead, to restart his dimensional engines.
Ian notes that destination ore is essentially uranium.
The Master's laboratory is his control room, kept in a temporal stasis bubble. The rest of his TARDIS is lost in the time vortex.
The Master persuades the Doctor to give up his TARDIS key.
Ian confiscated bangers from Tommy Flint on his last day at Coal Hill School.
The Master has met Houdini.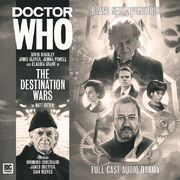 to be added
Continuity
Edit
External links
Edit
Community content is available under
CC-BY-SA
unless otherwise noted.