The Dark Side was the episode of Doctor Who Confidential broadcast in conjunction with series 1 episode The Long Game. It was narrated by Simon Pegg, who also appeared in the associated episode as the Editor.
Aspects of production covered
[
edit
|
edit source
]
The theme of the nature of media and how it can influence people.
Filming schedules, and how that had an impact on the writing of The Long Game.
The motivations of Van Statten in Dalek, and The Editor in The Long Game.
Simon Pegg discusses being The Editor.
VFX work for the Jagrafess.
Russell T Davies discusses his skepticism of the idea of 'evil geniuses', and his desire to ground the series' villains in motivations.
The history of villains within Doctor Who, including Davros, Omega and The Master.
The character of Turlough and how he is similar in some ways to Adam Mitchell.
"Come Down on Me" by Lemon Jelly, Album: 64-95[1]
"Firestarter" by The Prodigy, Album: The Fat of the Land
"Lovely Head" by Goldfrapp, Album: Felt Mountain
"Everybody Wants to Rule the World" by Tears for Fears, Album: Songs from the Big Chair
"Robot Rock" by Daft Punk, Album: Human After All
"Shot You Down" by Audio Bullys feat. Nancy Sinatra, Album: Shot You Down (Single)
"Alpha Male" by Röyksopp, Album: Röyksopp's Night Out
"What People Do All Day" by Aim, Album: Hinterland
"We Never Change" by Coldplay, Album: Parachutes
"Block Rocking Beats" by The Chemical Brothers, Album: Singles 1993-03
"Wordy Rappinghood" by Tom Tom Club, Album: 12" 80's
"They" by Jem, Album: They (Single)
Elements retained in Cut Down

[

edit

|

edit source

]
Simon Pegg discusses being The Editor.
The history of villains within Doctor Who. (Condensed significantly, and constrained down to only the modern series)
VFX work for the Jagrafess.
Discussion of Adam Mitchell's part within this story (restructured to remove the Turlough comparison)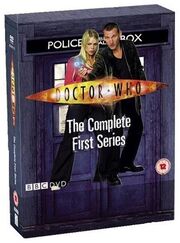 The "Cut Down" version of this episode was included on the Doctor Who: The Complete First Series DVD box set released on 21 November 2005.
Community content is available under
CC-BY-SA
unless otherwise noted.