You may wish to consult The Daleks for other, similarly-named pages.
The Daleks was the episode of Doctor Who Confidential broadcast in conjunction with Series 1 episode Dalek.
This was the first episode to have a "Cut Down" version produced, it aired the day after the full length version premiered, after the Sunday evening repeat of Dalek.
Aspects of production covered
[
edit
|
edit source
]
The return of the Daleks, the Doctor's biggest foes, to the screens after 17 years.
The designing and building of the new Dalek props.
The remote control mechanisms on the Dalek head dome.
Christopher Eccleston discusses how the Ninth Doctor is scared by the Daleks, and how he changes in nature upon encountering it.
The new theme for the Daleks, and recording for the choir vocals used.
Barnaby Edwards discusses the challenges of operating the Dalek prop.
The VFX work for the elevating Dalek.
Filming for the scene where Rose is cornered by the Dalek.
Russell T Davies and Sylvester McCoy discuss the horrible nature of the Daleks.
The high death count of Resurrection of the Daleks, and the amount of explosions involved.
Colin Baker discusses his troubles filming with the Daleks for Revelation of the Daleks.
Sylvester McCoy recounts the infamous incident during filming of Remembrance of the Daleks, where a large pyrotechnic sequence resulted in the arrival of the local emergency services.
"Excalibur: O Fortuna (from 'Carmina Burana')" by Carl Orff & City of Prague Orchestra, Album: The Cult Files[1]
"Nu Flow" by Big Brovaz, Album: The Best of R&B
Interestingly, one of the montages within this episode features footage from the Peter Cushing Dalek films.
Elements retained in Cut Down

[

edit

|

edit source

]
to be added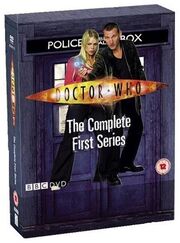 The "Cut Down" version of this episode was included on the Doctor Who: The Complete First Series DVD box set released on 21 November 2005.
Community content is available under
CC-BY-SA
unless otherwise noted.