The Curse of Davros was the one hundred and fifty-sixth story in Big Finish's monthly range. It was written by Jonathan Morris and featured Colin Baker as the Sixth Doctor and reintroduces Lisa Greenwood as companion, Flip Jackson.
Publishers summary
It's been a year since Philippa "Flip" Jackson found herself transported by Tube train to battle robot mosquitoes on a bizarre alien planet in the company of a Time Lord known only as "the Doctor".
Lightning never strikes twice, they say. Only now there's a flying saucer whooshing over the top of the night bus taking her home. Inside: the Doctor, with another extraterrestrial menace on his tail — the Daleks, and their twisted creator Davros!
But while Flip and the fugitive Doctor struggle to beat back the Daleks' incursion into 21st century London, Davros's real plan is taking shape nearly 200 years in the past, on the other side of the English Channel. At the battle of Waterloo...
Plot
to be added
Cast
References
Cultural references from the real world
On visiting the battlefield at Waterloo, Jared is reminded of the strategy-based video game franchise Command & Conquer.
Daleks
Davros' Kaled brain patterns are similar to those of a Dalek.
Individuals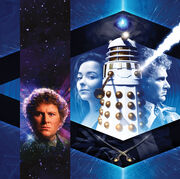 Notes
Continuity
External links
Main Range
Fifth Doctor
Adric, Nyssa, Tegan
Nyssa
Nyssa, Brewster
Nyssa, Hannah
Nyssa, Tegan
Nyssa, Tegan, Marc
Nyssa, Tegan, Turlough
Tegan, Turlough, Kamelion
Tegan, Leela
Turlough
Peri
Peri, Erimem
Amy
Solo travels
All stories in the main monthly range are included in this navigation box including the "subscriber exclusive" stories which are part of Big Finish Productions' subscription service for this range. All other stories are represented in other navigation boxes.
Community content is available under
CC-BY-SA
unless otherwise noted.