The Curse of Davros is the first story in the 2012 Sixth Doctor audio trilogy. It featured the return of Flip Jackson who had previously appeared in The Crimes of Thomas Brewster. During the closing moments of this story, she joins the Doctor.
Publishers summary
It's been a year since Philippa "Flip" Jackson found herself transported by Tube train to battle robot mosquitoes on a bizarre alien planet in the company of a Time Lord known only as "the Doctor".
Lightning never strikes twice, they say. Only now there's a flying saucer whooshing over the top of the night bus taking her home. Inside: the Doctor, with another extraterrestrial menace on his tail — the Daleks, and their twisted creator Davros!
But while Flip and the fugitive Doctor struggle to beat back the Daleks' incursion into 21st century London, Davros's real plan is taking shape nearly 200 years in the past, on the other side of the English Channel. At the battle of Waterloo...
Plot
to be added
Cast
References
Cultural references from the real world
On visiting the battlefield at Waterloo, Jared is reminded of the strategy-based video game franchise Command & Conquer.
Daleks
The upper half of a Dalek's casing is light enough for Flip to lift over Davros.
There are several insights (from a human perspective at least) into Dalek psychology and physiology; there is an underlying anger almost childish anger that is part of the Dalek's psychology/physiology. The Daleks are always in pain.
Davros orders the Supreme Dalek to increase its brain electro-stimulation by a factor of ten as a punishment.
Davros orders a Dalek to self-destruct. Given that he and the Supreme Dalek are close to it when it does, this must not be a very violent self-destruction.
Davros' Kaled brain patterns are similar to those of a Dalek.
Time Lords
When Davros is in the Doctor's body, he is able to automatically 'share' the 'gift' of language translation with Flip and Jared despite them having never been inside the TARDIS.
Individuals
After her flat is destroyed by the Daleks, Flip laments that she will have to move back in her with mother and her boyfriend Nigel whom she considers "creepy."
Flip has never had a solid grasp of history and claims that she was not even allowed to do it for her GCSEs. Consequently, her only knowledge of the Battle of Waterloo comes from the Swedish pop group ABBA's song "Waterloo". Upon meeting Napoleon only hours before the battle is to begin, she tells him of its outcome by quoting the song's opening lyric: "At Waterloo, Napoleon did surrender."
Davros is in constant pain. The Doctor acknowledges that if there was a button on Davros' chair that could terminate his life, he would use it in an instant to end the pain.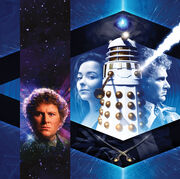 Notes
Continuity
External links
Main Range
Fifth Doctor
Adric, Nyssa, Tegan
Nyssa
Nyssa, Brewster
Nyssa, Hannah
Nyssa, Tegan
Nyssa, Tegan, Marc
Nyssa, Tegan, Turlough
Tegan, Turlough, Kamelion
Tegan, Leela
Turlough
Peri
Peri, Erimem
Amy
Solo travels
All stories in the main monthly range are included in this navigation box including the "subscriber exclusive" stories which are part of Big Finish Productions' subscription service for this range. All other stories are represented in other navigation boxes.