The Crooked Man was the third story in the third series of the Fourth Doctor Adventures, produced by Big Finish Productions. It was written by John Dorney and featured Tom Baker as the Fourth Doctor and Louise Jameson as Leela.
Winter at the seaside. The wind blows. The waves crash. People are dying and a strange spindly figure stalks the cold, deserted streets. A typical holiday for the Doctor and Leela in other words.
When they stumble across a grotesque series of murders at the coast, the TARDIS travellers realise the local constabulary is out of its depth. Something supernatural has come to town, something evil. And it all seems to be tied in to a particular young family.
Monsters lurk behind strange doors. Tragic secrets wait to be uncovered. And somewhere, deep within, the Crooked Man sits. He is waiting for you.
to be added
to be added
PC Ellis Andrews refers to the Doctor as "a loony in a scarf."
The Doctor refers to YouTube.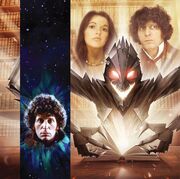 Community content is available under
CC-BY-SA
unless otherwise noted.