The Crimson Hand was the thirteenth volume of the Panini Publishing series of Doctor Who Magazine comic collections, and the third and final collection to feature the Tenth Doctor.
Like all in the series, it was notable for its high quality digital restoration of the comics. It was the first chance readers had of seeing the original version of the comics since they were first published in DWM in 2009 and 2010. Due to a multi-year printing delay, it holds the distinction of being the only Tenth Doctor publication with an Eleventh Doctor logo.
Publisher's summary
Collected Tenth Doctor Comic Strips — Volume 3
Join the Tenth Doctor on a series of extraordinary adventures in time and space in these collected comics from the pages of Doctor Who Magazine!
Featuring ten amazing stories:
The Doctor has a new adversary: Majenta Pryce, the toughest businesswoman in the galaxy! When Magenta manipulates time itself to make a profit, she and the Doctor cross swords – and Magenta ends up on the losing side. But events draw the pair together again when a threat to the entire universe surfaces, and Magenta is somehow at the heart of it. The Doctor is forced to take Majenta on an epic quest as they battle ice monsters, insane cyborgs, psychic predators and vengeful ghosts...
And the Crimson Hand are close behind them!
PLUS! A bumper commentary section where the writers, artists and editors reveal the stories behind the strips, featuring never-before-published sketches, unused and deleted scenes, original story outlines and more!
An essential collection for fans of Doctor Who and classic British comics!
Additional features
Credits
Notes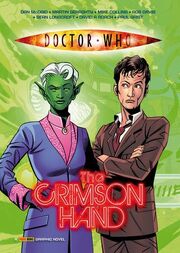 This long awaited third and final release to cover the collected comic stories of the Tenth Doctor was pulled from publication only weeks before its intended release.
In the forward by Russell T Davies this hiatus is attributed to something to do with "a contractual question about whether a 'graphic novel' constitutes a 'book' or something." Although printed and a further volume featuring the adventures of the Eleventh Doctor is announced it is unclear how the question was resolved (and even 'if').
Space Vikings! was included in this comic collection of Tenth Doctor stories having originally appeared not in the pages of Doctor Who Magazine but the Doctor Who Storybook 2010.