Doctor Strange in The Multiverse o Madness - The Loop
Play Sound


The Condemned was the one hundred and fifth story in Big Finish's monthly range. It was written by Eddie Robson and featured Colin Baker as the Sixth Doctor and India Fisher as Charlotte Pollard.
It continues Charley's involvement in the main range after her departure from the Eighth Doctor's company two releases prior. It is also the story that introduced Anna Hope as Detective Inspector Patricia Menzies, a character that continues to reappear in audios featuring the Sixth Doctor.
Publisher's summary
[
]
"Dr John Smith — you're under arrest. You do not have to say anything, but it may harm your defence if you do not mention when questioned something which you later rely on in court..."
Manchester, 2008. The TARDIS lands inside a run-down tower block, beside a dead body — which leads to some awkward questions when the Doctor is found there by the police. Made the prime suspect, how can the Doctor prove to the no-nonsense DI Patricia Menzies that this is not the open-and-shut case it seems, and that she's actually investigating the death of an alien?
Higher up in Ackley House, a girl named Maxine watches the Doctor being taken away in a squad car. Someone wants her to find out what happened in that room, and isn't going to be happy if she doesn't come up with the goods. But she's got hold of someone who knows — someone very important to the Doctor.
A deadly conspiracy is at work — one whose effects will be felt far beyond the walls of Ackley House...
Plot
[
]
to be added
Cast
[
]
References
[
]
Notes
[
]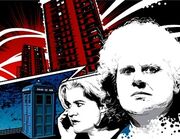 Continuity
[
]
External links
[
]
Main Range
Fifth Doctor
Adric, Nyssa, Tegan
Nyssa
Nyssa, Brewster
Nyssa, Hannah
Nyssa, Tegan
Nyssa, Tegan, Marc
Nyssa, Tegan, Turlough
Tegan, Turlough, Kamelion
Tegan, Leela
Turlough
Peri
Peri, Erimem
Amy
Solo travels
All stories in the main monthly range are included in this navigation box including the "subscriber exclusive" stories which are part of Big Finish Productions' subscription service for this range. All other stories are represented in other navigation boxes.