Jurassic World: Dominion Dominates Fandom Wikis - The Loop
Play Sound


The Brood of Erys was the one hundred and eighty-third story in Big Finish's monthly range. It was written by Andrew Smith and featured Colin Baker as the Sixth Doctor and Lisa Greenwood as Flip Jackson.
Publisher's summary
[
]
Space travellers are warned to keep away from the area of the planet Asphya and its unremarkable moon Erys. Not the best place to materialise the TARDIS, then – as the Doctor discovers when his ship is raided by the imp-like Drachee, and his companion Flip is carried away...
But the TARDIS isn't the only stricken vessel in the region. Aboard a nearby space yacht, the Doctor encounters a woman who holds in her head the secret of Erys – a secret suppressed by amnesia, or worse.
Flip, too, is about to learn Erys' secret. But once you know Erys' secret, you can never escape.
Plot
[
]
Part one
[
]
to be added
Part two
[
]
to be added
Part three
[
]
to be added
Part four
[
]
to be added
Cast
[
]
References
[
]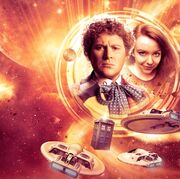 Notes
[
]
Continuity
[
]
External links
[
]
Main Range
Fifth Doctor
Adric, Nyssa, Tegan
Nyssa
Nyssa, Brewster
Nyssa, Hannah
Nyssa, Tegan
Nyssa, Tegan, Marc
Nyssa, Tegan, Turlough
Tegan, Turlough, Kamelion
Tegan, Leela
Turlough
Peri
Peri, Erimem
Amy
Solo travels
All stories in the main monthly range are included in this navigation box including the "subscriber exclusive" stories which are part of Big Finish Productions' subscription service for this range. All other stories are represented in other navigation boxes.