The Blue Tooth was the third story in the first series of The Companion Chronicles. It was produced by Big Finish Productions. It was written by Nigel Fairs and featured Liz Shaw. It was notable for being the one of the few stories to pit the Third Doctor against the Cybermen. Until the publication of The Piper in 2015, this was the only Third Doctor story to use the Cybermen as its main antagonists.
Publisher's summary
Edit
"I suppose that was one of the Doctor's most endearing qualities: the ability to make the bizarre and the terrifying seem utterly normal."
When Liz Shaw's friend Jean goes missing, the Doctor and U.N.I.T. are drawn to the scene to investigate. Soon Liz discovers a potential alien invasion that will have far-reaching affects on her life... and the Doctor is unexpectedly re-united with an old enemy...
to be added
References
Edit
The electricity board threatens to cut off the power at UNIT HQ because the Doctor is using large amounts of power for his experiment on the TARDIS.
Individuals
Edit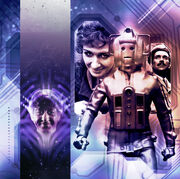 This story was recorded at The Moat Studios.
While originally set for release in January 2006, it was announced on 1 February that the release of the first series of Companion Chronicles was to be delayed until 5 February.[1] The announcement of their release came on 19 February[2], however this followed a gap of communications since the original announcement that release was delayed, so it is difficult to pinpoint a more precise release date than February.
This marks the first appearances of Liz Shaw, Sergeant Benton and Captain Mike Yates in an audio drama.
To date, this is the only appearance of the Cybermen in the Companion Chronicles.
Aside from a brief appearance in AUDIO: Zagreus, this is the first Big Finish audio drama to feature the Third Doctor.
Liz refers to Mike Yates as "Captain Yates", which is at odds with his rank as given in PROSE: The Scales of Injustice but consistent with AUDIO: Vengeance of the Stones.
Unlike most Companion Chronicles, this episode is divided into four 15-20 minute parts as opposed to two 30 minute parts. As a result, it is slightly longer than most single-disc releases.
This story is told from Liz's perspective.
Continuity
Edit
Footnotes
Edit
External links
Edit
Community content is available under
CC-BY-SA
unless otherwise noted.