The Age of Sutekh was the eighth and final story in the seventh series of the Fourth Doctor Adventures, produced by Big Finish Productions. It was written by Guy Adams and featured Tom Baker as the Fourth Doctor and Louise Jameson as Leela.
Publisher's summary
Edit
The world has changed. And the evil Osiran Sutekh is returning.
As blood sacrifices and worship boost the strength of the God of War, servicer robots walk the streets, killing those who have not converted.
Leela is working with the homeless population of the city, while the Doctor co-operates with the police.
A brutal battle is ready to begin. And if the Doctor and his friends fail, everyone in the galaxy will perish.
Part one
Edit
to be added
Part two
Edit
to be added
References
Edit
to be added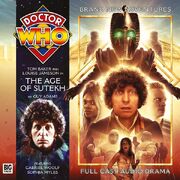 to be added
Continuity
Edit
to be added
External links
Edit