Technophobia was the first story in the The Tenth Doctor Adventures: Volume One, produced by Big Finish Productions. It was written by Matt Fitton and featured David Tennant as the Tenth Doctor and Catherine Tate as Donna Noble.
It saw the return of Tennant and Tate to the roles of the Doctor and Donna respectively and is set within the fourth series of Doctor Who.
Publisher's summary
Edit
When the Doctor and Donna visit London's Technology Museum for a glimpse into the future, things don't go to plan.
The most brilliant IT brain in the country can't use her computer. More worrying, the exhibits are attacking the visitors, while outside, people seem to be losing control of the technology that runs their lives.
Is it all down to simple human stupidity, or is something more sinister going on?
Beneath the streets, the Koggnossenti are waiting. For all of London to fall prey to technophobia...
to be added
Uncredited
Edit
References
Edit
Companions of the Doctor
Edit
Bex asks Donna whether she needs to check on friends and family. However, Donna assumed her mother and gramps would be fine.
Popular culture
Edit
Donna has recently been on a shopping spree in Henrik's.
Technology
Edit
Earth culture
Edit
Alien culture
Edit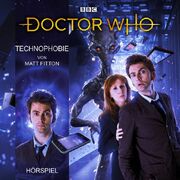 Upon release of this story, Big Finish's website crashed with the sheer amount of internet traffic on their site. The website remained under maintenance for several hours.
This was David Tennant's first appearance in a Big Finish audio drama since The Wasting in June 2005.
Originally, this story was intended to be about sleep deprivation. However, when Big Finish sent the script over to Cardiff, they became aware that a TV episode with a similar plot, Sleep No More, was being produced, so Matt Fitton changed the plot of the story. (VOR 87)
This story was released dubbed in German, as Technophobie.
Continuity
Edit
External links
Edit
Footnotes
Edit
Community content is available under
CC-BY-SA
unless otherwise noted.