Wiki Targeted (Entertainment)
Play Sound
Tardisode 10 was the tenth of the Tardisode series of mini-episode prologues to Doctor Who series 2. This Tardisode was a prelude to the episode Love & Monsters.
A mysterious figure is using a laptop to access a website titled L.I.N.D.A . It shows a hand-drawn sketch of the Doctor and the text "Who Is The Doctor?" followed by "Have You Seen Him?". The user clicks on the "Join L.I.N.D.A." button, causing the picture to change to a sketch of several people in a room, with the caption: "WE HAVE!"
Text appears that reads "Last Updated - WHOOPS! Ages ago, sorry - ELTON". The user clicks again on "Join L.I.N.D.A.", which makes the screen display the following text: "But L.I.N.D.A. is a secret organisation. So we can't tell you where... If you need us...You'll find us." The user points a strange silver object at the laptop, which changes the display to read "PRIMITIVE COMPUTER PAGE". The screen displays a map and text saying "TRACK SOURCE". The map closes in on Maccateer Street before the screen goes blank. An old lady enters the room carrying a tray. As she turns around, her expression turns to horror, and she is bathed in a green light. The heavy breathing of the unseen figure turns into a slurping and growling and the old lady shouts "No!"...
Insole Court, BBC Broadcasting House, Cardiff[1]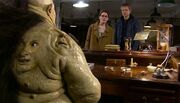 What is left of the secretary's face after being absorbed is visible on the right shoulder of Victor Kennedy in TV: Love & Monsters. Unlike his more recent victims whose faces and sentience are still intact, the secretary is beyond that stage of absorption. Her identity and consciousness have vanished, and all that remains of her are the shrinking features of a mouth, nose, right eye, and right brow.
Webcasts
Post-2005 BBC webcasts
Phones
iTunes
BBC website
YouTube

P.S.

•

Songtaran Carols

•

The Bells of Saint John: A Prequel

•

She Said, He Said: A Prequel

•

Keep Counting

•

The Doctor Who Experience

•

Zygon Stats

• 

Who Are The Silurians?

•

Who Are The Weeping Angels?

•

Who Are The Silence?

•

Who Are The Ood?

•

Who Is Davros?

•

Who Is The Master?

•

Who Are The Zygons?

•

Who Are The Sontarans?

• 

Who Are The Cybermen?

• 

Who Are The Daleks?

•

Commander Strax's Q&A

•

The Doctor Surprises Fans At The Doctor Who Experience

•

The Monsters Are Coming

•

Dalek Exploding In Slow Motion

•

The Daleks Chase Walter the Worm

• 

TARDIS Yule Log

• 

The 12 Doctors of Christmas

•

Merry Christmas!

•

Case File One

,

Two

,

Three

,

Four

,

Five

,

Six

,

Seven

,

Eight

,

Nine

,

Ten

,

Eleven

•

Festive Thirteenth Doctor Yule Log

•

'Twas the Night Before Christmas

•

Merry Christmas from Doctor Who

•

Mission to the Unknown

•

Farewell, Sarah Jane

•

The Defence Drones

Facebook
BBC Radio 1
The Collection
Twitter
UNIT Field Logs
Community content is available under
CC-BY-SA
unless otherwise noted.