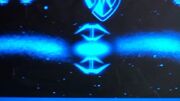 The Tandocca Scale was a scale used by migrant Bees from Melissa Majoria as carrier signals.
When the Earth was stolen, the Bees used the Tandocca Scale to travel home. The Tenth Doctor traced the signals and took the TARDIS to the Medusa Cascade. (TV: The Stolen Earth)
Behind the scenes
Though never seen in the episode, the spelling of Tandocca is used in the online script of The Stolen Earth.