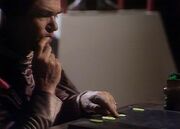 Talmars were the currency on Pluto. The Company taxed their citizens heavily for the greatest revenue imaginable. Taxes included medical and work tax. Interest on unpaid taxes was 50% and was compounded frequently.
The cost for a Golden Death was one hundred seventeen talmars. This was a rise from the earlier price of eighty talmars and was a fee Cordo was unable to pay, making him suicidal. As a Grade D worker he earned only three talmars a shift.
Air space violations and and illegal landings were subject to fines of five hundred talmars each. Only Executive Grade individuals were allowed into the sunlight. Anyone else caught in the sun was fined five talmars or given a week in the Correction Centre.
Kalmar, an Executive Grade from Megropolis Four, stole a million talmars from the Company by falsifying records. When caught, he was sent to the Correction Centre and survived a record three years.
Consumcards were a form of payment used to represent set quantities of talmars. The Fourth Doctor was tasked with taking a card worth a thousand talmars to the Consum Bank on subway 37. (TV: The Sun Makers)
Community content is available under
CC-BY-SA
unless otherwise noted.