Name change
Edit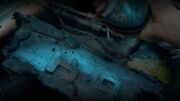 The writing on K9's regeneration unit and the inscriptions in The Five Doctors is clearly ∂³Σx², not Δ³Σx².LegoK9 ☎ 21:07, June 27, 2019 (UTC)
I assume the reasoning is that Δ is the upper-case form of ∂, and page titles must begin with a capital letter. But that's only if you want to treat "∂³Σx²" as a word per se, and treat the characters as the actual Greek letters rather than Ancient Gallifreyan ciphers which just so happen to resemble Greek letters because Reasons.--Scrooge MacDuck

☎

21:38, June 27, 2019 (UTC)

Δ is not an uppercase ∂. Δ is an uppercase version of δ, which is a different symbol than ∂.
Community content is available under
CC-BY-SA
unless otherwise noted.