The
first issue of Torchwood Magazine
had a cover date of
24 January
2008
.
Contents
Edit
Articles and features
Edit
Interviews / Profiles
Edit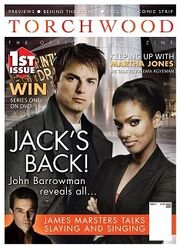 Comic strips
Edit
Story Previews
Edit
Additional features
Edit
Including the new-look BBC website (www.bbc.co.uk/torchwood)
Competitions, prizes included
John Barrowman's Anything Goes biography
Torchwood Series 1 DVD Boxset
Facts Included
Edit
Captain John Hart was originally going to appear riding the rift on a "pandimensional surfboard", like that seen in TV: Boom Town.
Torchwood Season 1 was the highest rated show to be shown on the BBC America channel.
A working title for S2.3 To the Last Man was Soldier's Heart, a term used to describe shell shock during the American Civil War.
Paul Kasey regular Doctor Who alien played the Blowfish.
Additional details
Edit
Titan Magazines was well known for its range of predominantly American TV tie-in titles that included Lost, Supernatural, Heroes, CSI: Miami, 24 and Prison Break.
Torchwood: The Official Magazine launched with a glossy cover, as a four-weekly title in January 2008 priced £3.75 (UK).
A subscription offer included a saving of 30% on 13 issues including one special issue.
This first issue included a £6 discount voucher against Getretro new range of limited edition Torchwood stamps exclusive to scificollector.
The launch date for the title means that it arrived on the shelves after Season 2 had begun transmission (indeed the previews commence with episode 3).
Of the 68 pages, 8 were given over to advertising other titles from the publisher and a further 4 pages of Torchwood related advertising.
The next issue page for that published on 21st February 2008 includes the comment "contents subject to change"
Aimed at mature fans of the series, the magazines did not shy away from discussions involving sex and violence, topics integral to the success of this "adult" spin-off series from the BBC's more family friendly Doctor Who.
The proposed readers' email page was to be headed "Talk Wood!"
The "Meet the Team" and "Grand Designs" features from this issue were reprinted in the Torchwood The Official Magazine Yearbook (2008) along with the John Barrowman and James Marsters interviews.
An alternative first issue cover was used for promotional purposes.
External links
Edit
Official online site for Titan Magazines, publishers of Torchwood Magazine.
Community content is available under
CC-BY-SA
unless otherwise noted.