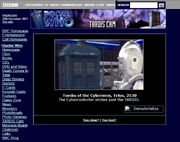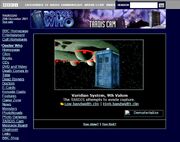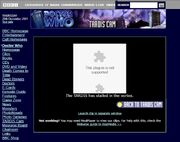 TARDIS-Cam was a webcam on the Doctor Who website with a constant feed of pictures and video of the TARDIS travelling throughout the universe. It launched on 23 November 2001 for the 38th anniversary with the aim of keeping the Doctor's adventures in the TARDIS going. Amongst the video clips was a series of six especially shot webcasts created by Mike Tucker and Nick Sainton-Clark.[1][2][3][4]
There were over 90 video clips, which were in RealPlayer (.ram) format in two resolutions, 144p for "low bandwidth" internet connections and 240p (4:3 aspect ratio) and 180p (16:9 aspect ratio) for "high bandwidth" connections. Pictures were all cropped to 16:9 widescreen aspect ratio.
The stories featured the significant on-screen appearances of Cybermen and Daleks, albeit motionless and dead, for the first time in years. No incarnation of the Doctor appeared, though the creators provided intended dates for the setting of each story.[5]
Fans could also send in their own artwork and photos which were put into a sister webcam called Your TARDIS-Cam. Other features included A Beginner's Guide to the TARDIS, a screensaver and 3 photo galleries.
Footnotes
Edit
Community content is available under
CC-BY-SA
unless otherwise noted.