St Mary's Street was a street in Cardiff.
The street was closed off by police in the mid 2000s when there was an incident at a nearby nightclub. The bodies of Craig Sutherland, Rick Dennis, Geraint Morris, Dai Morris and Idris ab Hugh were found inside. (PROSE: Slow Decay)
Gwen Cooper said to Rhys Williams that, even if an army of Weevils were to come out of the sewers on St Mary's Street, she'd still marry him on their planned date. (TV: Something Borrowed)
Gwen Cooper and Rhys Williams planned to travel along St Mary Street from Penarth Road to reach Cardiff's Central Police Headquarters during a zombie outbreak in 2009. However, they got caught up in an attack on a café close to Callaghan Square. (PROSE: Bay of the Dead)
Behind the scenes
Edit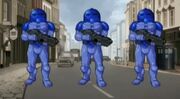 The street appears in the tutorial level of the game Legacy, where the Eleventh Doctor and Vastra defeat a Sontaran invasion on 16 October 1978.
St Mary Street has been used in filming for many episodes of Doctor Who and Torchwood.
In Rose, it was used for exterior shots of Henrik's, on Regent Street, as it explodes. In the same episode, people run around on Regent Street, again St Mary, during the Auton invasion.
In The Runaway Bride, the Tenth Doctor and Donna land the TARDIS on St Mary and try to hail a taxi. The building which doubled for Henrik's is visible in the background. Funnily enough, they're trying to get to St Mary's Church. Later on, the people gather on the street to look at the Webstar.
In Planet of the Dead, the Doctor and Christina board the 200 on this street, and the police chase after them.
St Mary Street has also been used in Everything Changes, as outside the pub where Gwen and Jack talk, Day One, where Gwen and Rhys watch a meteor strike, and Small Worlds, where Mark Goodson successfully gets himself arrested.
Community content is available under
CC-BY-SA
unless otherwise noted.