hide
open
This is the Game of Rassilon!
Like its namesake from The Five Doctors, our Game of Rassilon is just a bit of fun, ultimately designed to help out a charity.
Sure, we here at Tardis may not exactly be Children in Need, but we do need your help in editing certain types of long-neglected pages. The Game of Rassilon gives you awards as you edit along a particular path.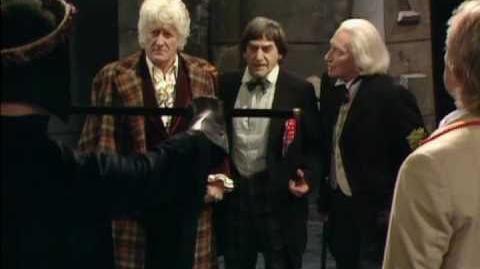 As with any game, there are a few rules, but for the most part it's really simple.
Go to your user profile page and look for a category that interests you
Edit pages within that category
Win badges
There are three different kinds of badge — gold, silver and bronze. But this being a
Doctor Who
wiki, we tend to think in terms of the incarnations of
the Doctor
. That means our awards come in these three flavours:
Purse of Pertwee the Patriarch

10

Thistle of Troughton

50

Honourarium of the High Holy Hartnell

100
Report from the Death Zone
Rank
Contestant
Points
Most recently earned

1

Shambala108
57,600

 

I'm the Freakin' White Guardian, Mate

Is something missing? Is there a mistake? Don't be shy.
Click the edit button and
you can add to any page!

I'm the Freakin' White Guardian, Mate

2

SOTO
49,310

 

Behold, The Keeper of the Matrix

Categories are tags that help readers find similar pages.
Click the Add category button
at the bottom of an article
to list that page in a category.

Behold, The Keeper of the Matrix

3

Doug86
39,280

 

I'm the Freakin' White Guardian, Mate

Is something missing? Is there a mistake? Don't be shy.
Click the edit button and
you can add to any page!

I'm the Freakin' White Guardian, Mate

4

OncomingStorm12th
32,350

 

Gift of the Randomiser Award

The Lucky Edit badge is given to the person who made the 1,000th edit on the wiki, and every 1,000 after that. To earn this badge, contribute a lot to the wiki
and hope you get lucky!

Gift of the Randomiser Award

5

GusF
28,520

 

I'm the Freakin' White Guardian, Mate

Is something missing? Is there a mistake? Don't be shy.
Click the edit button and
you can add to any page!

I'm the Freakin' White Guardian, Mate

6

Borisashton
23,930

 

Behold, The Keeper of the Matrix

Categories are tags that help readers find similar pages.
Click the Add category button
at the bottom of an article
to list that page in a category.

Behold, The Keeper of the Matrix

7

MrThermomanPreacher
22,830

 

I'm the Freakin' White Guardian, Mate

Is something missing? Is there a mistake? Don't be shy.
Click the edit button and
you can add to any page!

I'm the Freakin' White Guardian, Mate

8

Boblipton
22,810

 

Take Flight! And Leave The Earth Behind. The Journey Is About To Begin!

The Planets pages need your help! Click the "Edit" button on any page in that category to help out. Show your support for the Planets pages!

Take Flight! And Leave The Earth Behind. The Journey Is About To Begin!

9

CzechOut
22,760

 

I'm the Freakin' White Guardian, Mate

Is something missing? Is there a mistake? Don't be shy.
Click the edit button and
you can add to any page!

I'm the Freakin' White Guardian, Mate

10

Tybort
20,220

 

Behold, The Keeper of the Matrix

Categories are tags that help readers find similar pages.
Click the Add category button
at the bottom of an article
to list that page in a category.

Behold, The Keeper of the Matrix

11

Memnarc
16,610

 

I'm the Freakin' White Guardian, Mate

Is something missing? Is there a mistake? Don't be shy.
Click the edit button and
you can add to any page!

I'm the Freakin' White Guardian, Mate

12

OttselSpy25
16,260

 

When Romana Was Number 1

The Seasons pages need your help! Click the "Edit" button on any page in that category to help out. Show your support for the Seasons pages!

When Romana Was Number 1

13

Ebyabe
15,640

 

Behold, The Keeper of the Matrix

Categories are tags that help readers find similar pages.
Click the Add category button
at the bottom of an article
to list that page in a category.

Behold, The Keeper of the Matrix

14

MystExplorer
15,190

 

Gift of the Randomiser Award

The Lucky Edit badge is given to the person who made the 1,000th edit on the wiki, and every 1,000 after that. To earn this badge, contribute a lot to the wiki
and hope you get lucky!

Gift of the Randomiser Award

15

Gusthegreat
14,480

 

Yes, This Eye patch IS Necessary – Without It I Wouldn't Be Sinister

The Sixth Doctor DWM comic stories pages need your help! Click the "Edit" button on any page in that category to help out. Show your support for the Sixth Doctor DWM comic stories pages!

Yes, This Eye patch IS Necessary – Without It I Wouldn't Be Sinister

16

Revanvolatrelundar
13,590

 

Behold, The Keeper of the Matrix

Categories are tags that help readers find similar pages.
Click the Add category button
at the bottom of an article
to list that page in a category.

Behold, The Keeper of the Matrix

17

Vincent VG
13,380

 

Gift of the Randomiser Award

The Lucky Edit badge is given to the person who made the 1,000th edit on the wiki, and every 1,000 after that. To earn this badge, contribute a lot to the wiki
and hope you get lucky!

Gift of the Randomiser Award

18

BananaClownMan
12,300

 

I'm the Freakin' White Guardian, Mate

Is something missing? Is there a mistake? Don't be shy.
Click the edit button and
you can add to any page!

I'm the Freakin' White Guardian, Mate

19

Amorkuz
12,270

 

I Know Where Polly Got Her Last Name

The MA novels pages need your help! Click the "Edit" button on any page in that category to help out. Show your support for the MA novels pages!

I Know Where Polly Got Her Last Name