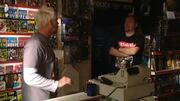 Spaced was a British sit-com written by, and starring, Simon Pegg and Jessica Hynes (credited at the time as Jessica Stevenson).
The series contained references to many pop-culture and cult series' which included Doctor Who. Perhaps the most obvious is a door that is decorated to resemble the The Doctor's TARDIS. This is given more significance by the fact that the stockroom on the other side of the door is noticeably bigger than the shop floor from which it opens.
Connections with Invaders from Mars

[

edit

|

edit source

]
Released just one year after the final series of Spaced was broadcast, the Eighth Doctor Big Finish audio drama Invaders from Mars has several connections with the series. Not only did it star both Pegg and Hynes, but it was also written and directed by Spaced guest star, Mark Gatiss. Another guest star, Paul Putner, also appeared.
The two also share a thematic connection as they both deal with audience reactions to popular culture. While Spaced looks at the wider way that people assimilate pop-culture into their everyday lives, Invaders from Mars focuses on a singular real world event, in which audiences believed Orson Welles' radio adaptation of War of the Worlds was an actual alien invasion.
Other connections to the DWU
[
edit
|
edit source
]
Both Pegg and Hynes have also appeared in televised Doctor Who; Pegg played the Editor in The Long Game, and Hynes played both Joan Redfern in Human Nature/The Family of Blood as well as her great-granddaughter Verity Newman in The End of Time. Pegg also narrated the first season of Doctor Who Confidential, and Gatiss has numerous credits across various media.
Another star of the series, Nick Frost has also appeared in Doctor Who, as have recurring actors Bill Bailey, Michael Smiley, and Reece Shearsmith, the latter of which also made several appearances in BBV films, and portrayed Patrick Troughton in An Adventure in Space and Time. Peter Serafinowicz provided voice work for the series.
Guest stars Kevin Eldon, Paul Kaye, Claire Rushbrook, John Simm, David Walliams, and Tony Way have also featured in various episodes. Rowena Cooper also guest starred in The Sarah Jane Adventures, and Gatiss, Walliams, and Putner also appeared in a number of Doctor Who Night comedy sketches.
In addition to these, series regular Julia Deakin and guest stars Cooper, Richenda Carey, Lee Ingleby, and Alex Lowe have also appeared in audio adventures.
Stunt performer Rod Woodruff also worked as a Stunt Co-ordinator on Rose and World War Three, and costume designer Anne Hardinge (credited as Annie Hardinge in Spaced) also worked in the costume department on Vengeance on Varos.
Community content is available under
CC-BY-SA
unless otherwise noted.