Slipback by Eric Saward was the first original Doctor Who serial to be produced for radio. It was first broadcast by BBC Radio in the summer of 1985 when the televised series was on hiatus for a year. The broadcast formed part of the three-part children's magazine series Pirate Radio Four which featured two ten-minute episodes per edition.
Colin Baker and Nicola Bryant reprised their TV roles for the production, which also included other cast members. It, along with the earlier Doctor Who and the Pescatons, is considered a forerunner of the later Big Finish Productions audio dramas. It was followed nearly a decade later by two more radio dramas starring Jon Pertwee and in 2007 by a new made-for-radio series for BBC7 (produced by Big Finish) starring Paul McGann.
Slipback was released on cassette by BBC Audio, and later on CD by Silva Screen Records.
Summary
The Sixth Doctor and Peri share an adventure on board a starship taken over by its dual personality computer, which tries to take the ship back to the dawn of the universe and start life again. Along the way the duo meet a couple of comedy policemen, an art thief and a captain who wants to infect his crew with one of his diseases...
Plot
to be added
Cast
Crew
No other individuals were actually credited on-air at broadcast.
References
Notes
Continuity
According to this story, the Vipod Mor is responsible for the Big Bang, yet in TV: Terminus another vessel was responsible for triggering the explosion, and TV: Castrovalva states that it was a "hydrogen in-rush".
Releases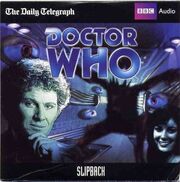 Novelisation
Main article: Slipback (novelisation)
Novelised as Slipback by Eric Saward in 1986. It was the first Target Books novelisation not based upon a televised story. The book is notable for not featuring the Doctor or Peri or directly adapting the radio play for its first fifty pages, instead expanding upon characters' backgrounds.
External links
Footnotes
Community content is available under
CC-BY-SA
unless otherwise noted.