She-Hulk Trailer Dropped - The Loop
Play Sound


Signs and Wonders was the one hundred and ninety-first story in Big Finish's monthly range. It was written by Matt Fitton and featured Sylvester McCoy as the Seventh Doctor, Sophie Aldred as Ace, Philip Olivier as Hector Thomas/Hex and Amy Pemberton as Sally Morgan.
It concluded the story arc surrounding Hex Schofield's amnesia, and both he and Sally depart in this story.
Publisher's summary
[
]
The end of the world is nigh. That's what everybody is seeing in their nightmares. That's why they are congregating in Liverpool for the party to end all parties, hosted by Rufus Stone, a celebrity turned doomsday prophet. He claims he's the only one who can save them when the day of judgement comes. Because he's on the side of the angels.
The Doctor, Ace and Hector arrive to find the city in the grip of apocalypse fever. There are lights in the sky, earthquakes and power cuts. The Doctor is determined to investigate, while Ace is more concerned about finding a way of restoring Hector's lost memories.
Meanwhile, in the river Mersey, hideous, slug-like creatures are stirring...
Plot
[
]
Part one
[
]
to be added
Part two
[
]
to be added
Part three
[
]
to be added
Part four
[
]
to be added
Cast
[
]
References
[
]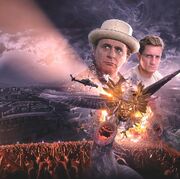 Notes
[
]
Continuity
[
]
External links
[
]
Main Range
Fifth Doctor
Adric, Nyssa, Tegan
Nyssa
Nyssa, Brewster
Nyssa, Hannah
Nyssa, Tegan
Nyssa, Tegan, Marc
Nyssa, Tegan, Turlough
Tegan, Turlough, Kamelion
Tegan, Leela
Turlough
Peri
Peri, Erimem
Amy
Solo travels
All stories in the main monthly range are included in this navigation box including the "subscriber exclusive" stories which are part of Big Finish Productions' subscription service for this range. All other stories are represented in other navigation boxes.