Sick Building was the eleventh Tenth Doctor novel released.
Publisher's summary
Tiermann's World: a planet covered in wintry woods and roamed by sabre-toothed tigers and other savage beasts. The Doctor is here to warn Professor Tiermann, his wife and their son that a terrible danger is on its way. The Tiermanns live in luxury, in a fantastic, futuristic, fully-automated Dreamhome, under an impenetrable force shield. But that won't protect them from the Voracious Craw. A gigantic and extremely hungry alien creature is heading remorselessly towards their home. When it gets there everything will be devoured. Can they get away in time? With the force shield cracking up, and the Dreamhome itself deciding who should or should not leave, things are looking desperate...
Plot
to be added
Characters
Robots
Toaster - sun bed
Barbra - vending machine
Walter - drink cabinet
Stirpeek
References
to be added
Notes
This was Paul Magrs' first novel to not feature Iris Wildthyme.
This had the working title of The Wicked Bungalow but was changed prior to the release date after the intervention of Russell T Davies.
The creature shown on the cover to represent the Voracius Craw is a lamprey.
This story was also released as an ebook available from the Amazon Kindle store.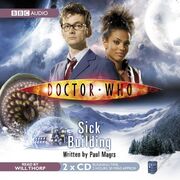 Continuity
Audio release
The story was released as an audiobook on 2x CD read by Will Thorp.
The audiobook is also available as a download from the AudioGo website.
External links