Shaman Kahn was an Ace Flier and mercenary.
Biography
Edit
Shaman Kahn and Big Cat went "way back". (COMIC: A Ship Called Sudden Death)
Kahn had a 100% efficiency rating and did not work for less a one and half a million in payment; he wore a Samurai-style flight helmet. Intra-Venus, Inc. hired him to take two rogue Hellcats who threated the Warworld weapons sales. Kahn successfully killed Wildcat while Big Cat crashed into the sea and was rescued by a submarine. (COMIC: Recruitment...)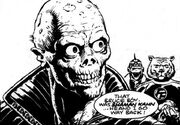 Shaman Kahn lost a race to Big Cat, leaving Kahn severely disfigured while Big Cat won fifty thousand Krugers and a star career. On the planet Ariadne, Kahn challenged Big Cat to a rematch against his spacecraft, Sudden Death. Big Cat won the race when he tricked Kahn into flying into an asteroid belt. While Big Cat triumphed in his victory, he was not convinced that Kahn was dead. (COMIC: A Ship Called Sudden Death)
Shaman Kahn put out a reward regarding the Freefall Warriors. He told a Meep they would be at Maruthea. (COMIC: Party Animals)
External links
Edit
Community content is available under
CC-BY-SA
unless otherwise noted.