Serpent in the Silver Mask was the two hundred and thirty-sixth story in Big Finish's monthly range. It was written by David Llewellyn and featured Peter Davison as the Fifth Doctor, Matthew Waterhouse as Adric, Sarah Sutton as Nyssa and Janet Fielding as Tegan Jovanka.
Publisher's summary
Edit
You are cordially invited to Argentia, the galaxy's most exclusive tax haven, to attend the funeral of mining magnate Carlo Mazzini. The memorial service will be followed by music, light refreshments, and murder!
Carlo's heirs have come to say their final goodbyes (and find out how much they've inherited) but when a masked killer begins picking them off one by one, Argentia goes into lock-down, closed off behind its own temporal displacement field.
Can the Doctor, Nyssa, Tegan and Adric apprehend the murderer before Argentia – and everyone on board - is forever cut off from the rest of the Universe?
Part one
Edit
to be added
Part two
Edit
to be added
Part three
Edit
to be added
Part four
Edit
to be added
References
Edit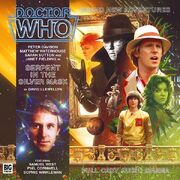 Continuity
Edit
to be added
External links
Edit
Main Range
Fifth Doctor
Adric, Nyssa, Tegan
Nyssa
Nyssa, Brewster
Nyssa, Hannah
Nyssa, Tegan
Nyssa, Tegan, Marc
Nyssa, Tegan, Turlough
Tegan, Turlough, Kamelion
Tegan, Leela
Turlough
Peri
Peri, Erimem
Amy
Solo travels
All stories in the main monthly range are included in this navigation box including the "subscriber exclusive" stories which are part of Big Finish Productions' subscription service for this range. All other stories are represented in other navigation boxes.
Community content is available under
CC-BY-SA
unless otherwise noted.