watch 02:03
Wiki Targeted (Entertainment)
Play Sound
For the 6th season of the original series, see Season 6.
Template:Pre-broadcast spoiler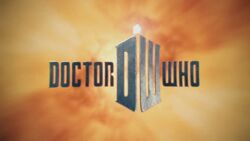 Series 6 of Doctor Who, sometimes known as Season 32 to avoid confusion with Season 6, is expected to air on BBC One in Spring and Fall 2011. DWM Issue 419 has confirmed that it has been commissioned by the BBC, and producer Piers Wenger also announced the same at the BBC Press Launch for Series 5 in March 2010[1]. Filming started in July 2010. This series will be preceded by a 2010 Christmas Special, written by Steven Moffat.[1] The series will be split into two pieces, the series will air sometime around Easter, then will stop halfway after episode seven is aired, then will start again from episode 8 in autumn.
Cast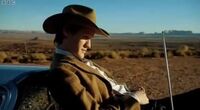 It has been confirmed that Matt Smith will return as the Eleventh Doctor[1]and will not leave. Producers also confirmed that Karen Gillan will return as Amy Pond[2] and Arthur Darvill will stay for the full series asRory Williams (the first male companion to do so since 1975).
Primary cast
Secondary cast
Guest cast
Kazran Sardick[6] - Michael Gambon
Young Kazran - Laurence Belcher[9]
Eric - Nick Malinowski [12]
Older Benjamin - Steve North [13]
Chief Servant - Tim Plester[14]
Abigail Pettigrew[15] - Katherine Jenkins
TBA - Laura Rogers [16]
TBA - Leo Bill[17]
TBA - Bailey Pepper[18]
TBA - Peter Bowles[19]
Julie - Sophie Cosson[20]
Mrs Rossiter - Leila Hoffman[21]
Mrs Rossiter (China Doll) - Louise-Marie Bowmen[22]
TBA - Nancy Baldwin
Casting notes
Steven Moffat confirmed in Doctor Who Confidential that River Song's identity and background story will be revealed in Series 6, and that the unanswered questions of Series 5 concerning the Time Field cracks, the silence, and the mysterious external force that took control of the TARDIS and tried to make it explode, will play a role.
There are currently no plan to bring back Paul McGann or any other Doctors back at the moment[42]
Aliens and enemies
Notes
The monster in the opening episodes is said to be "the scariest monsters yet".[43]
Episode 4 will feature life-size dolls.[44]
Episode 5 and 6 will feature incomplete clones.[45]
Nazis will make an appearance.[48]
The inside of the ship The Doctor describes as "an attempt by someone to build a TARDIS" in DW: The Lodger can be seen in the "Coming Soon" trailer for this season. [49]
May possibly include the Vashta Nerada in the "COMING SOON" trailer.
Production
Writers
Neil Gaiman has confirmed that he is writing an episode for the first half of this series. Gaiman told BBC News that his episode was originally titled The House of Nothing[50] It was revealed on Neil Gaiman's twitter page that his episode will be the third episode of Series 6 [51] Steven Moffat will return as Executive Producer and Head Writer and will write six episodes, including the 2010 Christmas special. It has been rumoured that Tom MacRae and Paul Cornell are writing for Series 6, [52] though Cornell denied the rumour.
Crew
DWM 424 confirmed on page 5 the following:
Directors
Production notes
Richard Clark will direct two episodes; the third episode, written by Neil Gaiman, and the fourth episode, written by Mark Gatiss.[63]
Matt Smith mentioned in his appears on The Late Late Show with Craig Ferguson that they filmed an episode in Utah, which was why he was in LA for the interview. As it turned out, according to 2 previews aired during A Christmas Carol, it appears that the entire series takes place in the United States.
Television stories
Christmas special
Regular season
The series has been commissioned for 13 episodes, with 7 episodes being broadcast in Spring 2011 and the remaining 6 episodes in Autumn 2011.
Spring
Autumn
Episode Number
Title
Writer
Director
Notes
8
Pt. 2: TBA
Steven Moffat
TBA
Start of the Autumn half of Series 6
9
TBA
TBA
TBA
10
TBA
TBA
TBA
11
TBA
TBA
TBA
12 & 13
Pt. 1: TBA
Pt. 2: TBA
Steven Moffat
TBA
Episode notes
During an interview with Neil Gaiman on BBC breakfast he revealed that his episode is "Very spooky" and that fans "Are likely to be biting their nails off by the end".
Steven Moffat said (before it aired) that the A Christmas Carol would be the most " Christmassy Christmas special ever." and " We're going for broke with this one. It's all your favourite Christmas movies at once, in an hour, with monsters and the Doctor and a honeymoon and – oh, you'll see. I've honestly never been so excited about writing anything. I was laughing madly as I typed along to Christmas songs in April. My neighbours loved it so much they all moved away and set up a website demanding my execution. But I'm fairly sure they did it ironically."
Controller of drama commissioning Ben Stephenson revealed that the episode, which guest stars Michael Gambon and Katherine Jenkins, will be based on Charles Dickens' 1843 novel A Christmas Carol. [80]
On his blog, writer Neil Gaiman released a short conversation between Amy and the Doctor that did not meet the final cut in the episode wrote, also confirming that he had finished it. [81]
On set photos for episode four showed some new doll-like monsters which may be featuring in episode three as that was due to be set in a doll's house. [82]
For the first time in the revived series, it will open with a two-parter in which The Doctor, Amy and Rory arrive in Utah in the 1960′s and get caught up in an adventure that marks the return of River Song. [83]
The Christmas special will again be a 60 minute episode [84]
There will be a preview of the Christmas Special shown at Children in Need[85]but preceding this, there will be a 'mini clip' in which the Doctor and Amy are having a tea party in the TARDIS and the Doctor will introduce the clip.[86] (Link to clip)[87]
A synopsis of A Christmas Carol has been realeased:
Amy and Rory are trapped on a crashing space liner, and the only way The Doctor can rescue them is to save the soul of a lonely old miser, in a festive edition of the time-travelling adventure, written by Steven Moffat. But is Kazran Sardick, the richest man in Sardicktown, beyond redemption? And what is lurking in the fogs of Christmas Eve?[88]
A second synopsis has been realeased:
It's the deepest part of winter, the exact midpoint, Christmas Eve – half way out of the dark. Amy and Rory are trapped on a stricken space liner that's plummeting through banks of thick icy fog to the surface of the planet below. Only one man has the power to save them; only one man is in possession of a machine that can clear the fog and let them land safely. That man is Kazran Sardick, a rich but lonely old miser who rules Sardicktown with a sky-mast of iron. The Doctor's only chance of rescuing the ship's 4,000 passengers is to save Kazran's soul and show him that life is worth living. For this he needs to go back, way back, to when Kazran was a boy with a life full of promise. But can the Doctor put a song in Kazran's heart and love in his life, in time for Christmas? Can he bring him out of the dark?
A Christmas Carol aired at 6pm on Christmas Day.
There will be a three month wait between the series spilt[89]
A rumoured syopsis of "The Rebel Flesh" and "Gangers" has been realeased:
An army of monsters from outer space will make a carbon copy of the handsome doctor as they invade Earth.However, the Time Lord will only discover the clone when he comes face to face with himself as he investigates the alien invasion, and tries to foil the extra-terrestrial beings' plans to take over the world. His companions Amy and Rory also become confused when they can't work out which is the real Doctor and which is his double, and whom they should be taking instructions from.[90][91]
Rumours
In The Brilliant Book, several "hints" about Series 6 were revealed.[92]
Matt Smith will leave after the 2011 series [93], a rumour picked up by several other media sources [94][95]. This has been denied by Matt Smith and Karen Gillan[96] Another BBC insider said that Smith will stay until the 50th anniversary of the show, in 2013.[97]
Karen Gillan is leaving the series and Amy Pond will be killed off at the climax to the spring half of the series.[98] Matt Smith has denied the rumours that Amy will die, or that Karen is leaving.[99]
The villain for the christmas special has been confirmed by the BBC to be a CGI "Flying Shark". [100] This looks more positive now filming pictures have emerged from filming showing a door with a bite mark in [101] and a model sculpture of what appears to be a CGI Shark's head [102]. This was proven false in some ways. There was fish and sharks featuring in the episode however the main enemy was Kazran Sardick.
Matt Smith was being measured for a new outfit.[103] He was later seen on set donning a new tweed jacket, and there were no major changes to the outfit, though the elbow patches were gone.[104]
Series 6 will be broadcast in the Autumn of 2011 rather than the spring. This is false as it was later proved that one half of the series will be shown in spring and the other in autumn.
The Doctor will pose as A Ghost of Christmas Past.[105] In a trailer for the BBC's Christmas season, the Doctor is heard saying "I'm a ghost of Christmas Past".[106]
River Song will die.[107]
The Celestial Toymaker will return.[108]
The Daleks may return in their "old" form.[109] Steven Moffat has stated that the Daleks are not likely to return for Series 6, but, when they do return, the "old" Daleks will feature.
The Christmas Special could be a musical[110]
Viewers will see more of the Doctor's TARDIS.[111]
The Christmas special will be set on a planet that looks Victorian and will have flying sharks.[112]
We will see River Song as a child.[113]
Dutch actor Marnix Van Den Broek is rumoured to play a character known as "The Silent". Given the similarity in name to the Silence, it is rumoured that they are the same character.[114]
We will learn of the identity of River Song.[115]This is rumoured to be the cliffhanger to the Spring season.[116]
The Doctor will meet a President of the USA.[117] This is rumoured to be Richard Nixon or John F. Kennedy.[118][119]
One of the episodes will feature a "future Doctor".[122]
There are numerous rumours about Neil Gaiman's story being set in a giant doll's house[123][124] this also seems more likely due to the working title of his story being "The House of Nothing".
There will be a episode with an Egyptian theme.[125][126][127] This looks more positive now that a rumour has surfaced about the redesigned classic Cybermen returning, mummified in a egyptian tomb, which will be written by Steven Thompson (Who previously wrote for Sherlock). [128][129]
There will possibly be an episode set in an Ice Base.[130]
Episodes 5 & 6 will feature incomplete clones and robot droids from the future, who also accuse the Doctor of being a clone.[132]
The Weeping Angels will return.[133]
There will be a one-off Easter special.[134]
The TARDIS will be cloned.[135]
We will find out who River Song killed. Steven Moffat has said "a good man will die – a good man, and a hero to many."[136]
In A Christmas Carol, the Doctor will get engaged.[137] He was accidently engaged to Marilyn Monroe, and this leads up to a gag at the end of the episode.
The Silence will be a completely new enemy, and won't be a villain that we've have seen before [139]
Footnotes
Previous season:
Series 5

Next season:
TBA
Community content is available under
CC-BY-SA
unless otherwise noted.