For the 6th season of the original series, see Season 6.
Template:Pre-broadcast spoiler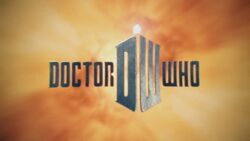 Series 6 of Doctor Who, sometimes known as Season 32 to avoid confusion with Season 6, is expected to air on BBC One in Spring and Autumn 2011. DWM Issue 419 has confirmed that it has been commissioned by the BBC, and producer Piers Wenger also announced the same at the BBC Press Launch for Series 5 in March 2010[1]. Filming started in July 2010. This series was preceded by a 2010 Christmas Special, written by Steven Moffat. The series will be split into two pieces, first airing sometime around Easter. It will then stop after episode seven is aired, then will start again from episode eight in Autumn.
Cast
It has been confirmed that Matt Smith will return as the Eleventh Doctor[1]. Producers also confirmed that Karen Gillan will return as Amy Pond[2] and Arthur Darvill will stay for the full series as Rory Williams, the first male companion to do so since 1975. Alex Kingston will also return as River Song, with her character revealing her true identity to the Doctor.
Primary cast
Secondary cast
Guest cast
Captain - Pooky Quesnel
Co-Pilot - Micah Balfour
Eric - Nick Malinowski
Older Benjamin - Steve North
Chief Servant - Tim Plester
Mrs Rossiter - Leila Hoffman[4]
Mrs Rossiter (China Doll) - Louise-Marie Bowmen[5]
Mr. Purcell - Andrew Tiernan[6]
Idris - Suranne Jones[7]
Julie - Sophie Cosson[8]
Dr Shepherd - Peter Banks[9]
Guard - Kieran O'Connor[10]
Canton Everett Delaware III - Mark Sheppard[11]
Busboy - Emilio Acqunio[12]
The Silent - Marnix Van Den Broeke[13]
Clone worker - Leon Vickers[14]
Sergeant - Tommy Campbell[15]

Buzzer - Marshall Lancaster[18]
Uncle - Adrian Schiller[19]
Auntie - Elizabeth Berrington[20]
TBA (George's Mother) - Emma Cunniffe[25]
TBA - Mark Bonnar[26]
TBA - Alex Gianinni[27]
TBA - Kerry Shale[28]
TBA - Stuart Milligan[29]
TBA - Laura Rogers[30]
TBA - Leo Bill[31]
TBA - Bailey Pepper[32]
TBA - Peter Bowles[33]
TBA - Fern Deacon[35]
TBA - Frances Encell[36]
TBA - Nancy Baldwin
Casting notes
Steven Moffat confirmed on Doctor Who Confidential that River Song's identity and background story will be revealed in Series 6.

Steven also stated that the unanswered questions of Series 5 - the Time Field cracks, the silence, and the mysterious external force that took control of the TARDIS and tried to make it explode - will play a role.

There are currently no plans to bring back Paul McGann or any other Doctors.[37]
Aliens and enemies
Notes
The Silence will appear.
The monsters in the opening episodes are said to be "the scariest monsters yet".[38]
Episode 4 will feature life-size dolls.[39]
Episode 5 and 6 will feature incomplete clones.[40]
Originally it was reported that there will be no monsters from the classic series returning this year.[41][42]
Nazis will make an appearance.[43]
Production
Writers
Neil Gaiman has confirmed that he is writing an episode for the first half of this series. Gaiman told BBC News that his episode was originally titled The House of Nothing[46] and was said to be the third episode of Series 6 on Neil Gaiman's twitter page.[47] However, it was later revealed that Steve Thompson would be writing the third episode and Gaiman's episode pushed back to the fourth. Steven Moffat will return as Executive Producer and Head Writer and will write six episodes, including the 2010 Christmas special. It has been rumoured that Tom MacRae and Paul Cornell are writing for Series 6, [48] though Cornell denied the rumour.
Crew
DWM 424 confirmed on page 5 the following:
Directors
Production notes
Television stories
Christmas special
Regular season
The series has been commissioned for 13 episodes, with 7 episodes being broadcast in Spring 2011 and the remaining 6 episodes in Autumn 2011.
Spring
Autumn
Episode Number
Title
Writer
Director
Notes
8
Pt. 2: TBA
Steven Moffat
TBA
Start of the Autumn half of Series 6
9
TBA
Richard Clark[75]
Changed from episode four[76]
10
TBA
TBA
TBA
11
TBA
TBA
TBA
12 & 13
Pt. 1: TBA
Pt. 2: TBA
TBA
TBA
Episode notes
During an interview with Neil Gaiman on BBC breakfast he revealed that his episode is "very spooky" and that fans "are likely to be biting their nails off by the end".
On his blog, writer Neil Gaiman released a short conversation between Amy and the Doctor that did not meet the final cut in the episode wrote, also confirming that he had finished it. [77]
On-set photos for episode nine showed some new doll-like monsters which may be featuring in episode three, as that was due to be set in a doll's house. [78]
For the first time in the revived series, it will open with a two-parter, in which the Doctor, Amy and Rory arrive in Utah in the 1960′s and get caught up in an adventure that marks the return of River Song. [79]
There will be a three-month wait between the series split.[80]
It has been announced that Mark Gattis' episode is now episode nine, Neil Ganman's episode is now episode four and a new episode, written by Steve Thompson, will be episode three. [81]
A rumoured synopsis of "The Rebel Flesh" and "Gangers" has been released:
An army of monsters from outer space will make a carbon copy of the handsome Doctor as they invade Earth. However, the Time Lord will only discover the clone when he comes face to face with himself as he investigates the alien invasion, and tries to foil the extra-terrestrial beings' plans to take over the world. His companions Amy and Rory also become confused when they can't work out which is the real Doctor and which is his double, and whom they should be taking instructions from.[82][83]
Rumours
In The Brilliant Book, several "hints" about Series 6 were revealed.[84]
Matt Smith will leave after the 2011 series [85], a rumour picked up by several other media sources. [86][87]. This has been denied by Matt Smith and Karen Gillan[88] Another BBC insider said that Smith will stay until the 50th anniversary of the show, in 2013.[89]
Karen Gillan is leaving the series and Amy Pond will be killed off at the climax to the spring half of the series.[90] Matt Smith has denied the rumours that Amy will die, or that Karen is leaving. [91]However, the rumours have resurfaced after Matt Smith gave an interview for Big Issue, which hinted at her departure[92]
Matt Smith was being measured for a new outfit.[93] He was later seen on set donning a new tweed jacket, but there were no major changes to the outfit, though the elbow patches were gone.[94]
Series 6 will be broadcast in the Autumn of 2011 rather than the spring. This is false as it was later proved that one half of the series will be shown in spring and the other in autumn.
River Song will die.[95] This is unlikely, as River Song has already died in the established events of Silence in the Library and Forest of the Dead.
The Celestial Toymaker will return.[96]
The Daleks may return in their "old" form.[97] Steven Moffat has stated that the Daleks are not likely to return for Series 6, but, when they do return, the "old" Daleks will feature.
Viewers will see more of the Doctor's TARDIS.[98]
We will see River Song as a child.[99]
Dutch actor Marnix Van Den Broek is rumoured to play a character known as "The Silent". Given the similarity in name to the Silence, it is rumoured that they are the same character.[100]
We will learn of the identity of River Song.[101]This is rumoured to be the cliffhanger to the Spring season.[102]
The Doctor will meet a President of the USA.[103] This is rumoured to be Richard Nixon or John F. Kennedy.[104][105]
One of the episodes will feature a "future Doctor".[107]
There are rumours about Neil Gaiman's story being set in a giant doll's house[108][109] this also seems more likely due to the working title of his story being "The House of Nothing".
There will be a episode with an Egyptian theme.[110][111][112] This looks more positive now that a rumour has surfaced about the redesigned classic Cybermen returning, mummified in a Egyptian tomb, which will be written by Steven Thompson (Who previously wrote for Sherlock). [113][114]
There will possibly be an episode set in an Ice Base.[115]
Episodes 5 & 6 will feature incomplete clones and robot droids from the future, who also accuse the Doctor of being a clone.[117]
The Weeping Angels will return.[118]
There will be a one-off Easter special.[119]
The TARDIS will be cloned.[120]
We will find out who River Song killed. Steven Moffat has said "a good man will die – a good man, and a hero to many."[121]
The Silence will be a completely new enemy, and won't be a villain that has seen before. [122]
Neil Gaiman's story will contain something - or someone - that we have not seen since The War Games.[123]
The enemy in episode four will be called "House" or "The House". This could be true. The working title was "House Of Nothing".[124]
Newly designed Cybermen will appear in episode 7[125]
Monks will appear in episode 7[126]
Footnotes
Template:Seasons Template:Series 6