Series 4 of Torchwood, also known under the umbrella title Miracle Day, ran between 8 July 2011 and 9 September 2011. It starred John Barrowman as Jack Harkness, Eve Myles as Gwen Cooper, Kai Owen as Rhys Williams, Mekhi Phifer as Rex Matheson, Alexa Havins as Esther Drummond and Bill Pullman as Oswald Danes. The series opened with The New World and concluded with The Blood Line.
Overview
[
]
It consisted of ten episodes broadcast like series 3, carrying an umbrella title — Miracle Day. This season marked a major departure from past Doctor Who-franchise productions, as it was a co-production of BBC Wales and the American cable network Starz, and was filmed in both Wales and Hollywood. The episodes of Miracle Day were broadcast on Starz in the US several days before their broadcast on BBC One in the UK.
Production occurred after an aborted attempt to interest the Fox network (which had aired the 1996 Doctor Who tele-movie) in mounting a fully Americanised remake. The Starz/BBC production is a continuation of existing canon, set two years after the events of TV: Children of Earth: Day Five and featuring several returning cast members, primarily John Barrowman, Eve Myles and Kai Owen, along with several scripted references to the Doctor and creatures from both Doctor Who and The Sarah Jane Adventures.
A trailer for the series was released.
Synopsis
[
]
When C.I.A. agent Rex Matheson investigates a global conspiracy, he finds himself unearthing a threat which challenges the entire human race.
One day, nobody dies. All across the world, nobody dies. And then the next day, and the next, and the next. People keep ageing. They get hurt and sick, but they never die. The populace of the planet dub this "Miracle Day" for the immortality they now seem to have. However, this leads to a negative result: a population boom, overnight. With all the extra people unable to die and continuing births, resources have become limited. It's suggested that in four months' time, the human race will cease to be viable. But this can't be a natural event – someone must have caused "Miracle Day". It's a race against time as C.I.A. agent Rex Matheson investigates a global conspiracy. The answers lie within an old, secret British institute. As Rex keeps asking "What is Torchwood?", he's drawn into a world of adventure, and a threat to change what it means to be human, forever.
The answers seem to lie within Torchwood itself. But Torchwood (3rd branch) was destroyed, years ago, and the keys to the institute are held by its only two surviving agents: former Police Officer Gwen Cooper, who has long since disappeared along with her husband and child, and the mysterious Captain Jack Harkness, a man whose history seems to stretch back for centuries and has disappeared off the face of the Earth.
Things become even more complicated as Rex soon becomes one of the people continuing to live thanks to "Miracle Day". Luckily, Gwen comes out of hiding and Jack returns to Earth to help. Combining their experience with bizarre situations and information gathered from one of Rex's contacts, a new Torchwood team takes shape.
Adding to the bizarre circumstances, Jack has lost his immortality. While some pharmaceutical companies take advantage of the people needing pain killers, Jack begins to think that something from his past may be causing "Miracle Day".[1]
Cast
[
]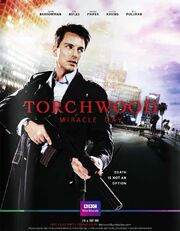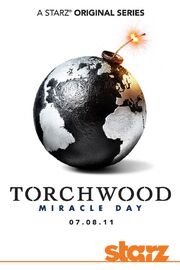 Recurring
[
]
Guest
[
]
Casting notes
[
]
Episodes
[
]
Note: for the first time in a Doctor Who franchise series, individual episode titles were not displayed on screen.
#
Title
Writer
Director
Notes
1
The New World
Russell T Davies
Bharat Nalluri
Return of Jack Harkness. Introduction of Rex Matheson, Esther Drummond, Charlotte Willis, Noah Vickers, Oswald Danes and Vera Juarez. First televised appearance of Anwen Williams. Beginning of "Miracle Day". Jack's immortality is undone.
2
Rendition
Doris Egan
Billy Gierhart
Introduction of Jilly Kitzinger. First appearance of Brian Friedkin.
3
Dead of Night
Jane Espenson
Formation of a new Torchwood team.
4
Escape to LA
Jim Gray, John Shiban
Introduction of the Three Families, and first appearance of the Cousin.
5
The Categories of Life
Jane Espenson
Guy Ferland
"Death" of Vera Juarez.
6
The Middle Men
John Shiban
7
Immortal Sins
Jane Espenson
Gwyneth Horder-Payton
Introduction of Angelo Colasanto. First appearance of Olivia Colasanto.
8
End of the Road
Jane Espenson, Ryan Scott
Introduction of Allen Shapiro. Death of Angelo Colasanto. "Deaths" of Brian Friedkin and Olivia Colasanto.
9
The Gathering
John Fay
Guy Ferland
First appearance of the Mother. Reveal of the Blessing.
10
The Blood Line
Russell T Davies, Jane Espenson
Billy Gierhart
Death of Noah Vickers, Allen Shapiro, the Cousin, Geraint Cooper, Esther Drummond, Oswald Danes, the Mother and Charlotte Wills. End of "Miracle Day". Jack's immortality is restored, while Rex also becomes immortal.
Aliens and enemies
[
]
Digital availability
[
]
Series 4 of Torchwood is available for purchase and/or as part of a subscription on:
Tie-in media
[
]
Novels
[
]
Other releases
[
]
Footnotes
[
]