Wiki Targeted (Entertainment)
Play Sound

Series 3 of Torchwood, also known under the umbrella title Children of Earth, ran between 6 July and 10 July 2009. It starred John Barrowman as Jack Harkness, Eve Myles as Gwen Cooper, Kai Owen as Rhys Williams and Gareth David-Lloyd as Ianto Jones. The series opened with Children of Earth: Day One and concluded with Children of Earth: Day Five.
It consisted of a single, five-episode story arc entitled Torchwood: Children of Earth, broadcast over five consecutive nights . The series had a new producer, Peter Bennett, and was directed by Euros Lyn, who had considerable experience on the revived Doctor Who.
The first and final episodes were written by Russell T Davies, who also wrote the story arc. The third episode was co-written by Davies and James Moran whilst the second and fourth were by newcomer John Fay, though, according to Moran's blog, all three writers had input into the storyline.
Freema Agyeman and Noel Clarke were originally scheduled to appear as Martha Jones and Mickey Smith, Agyeman appearing throughout the story arc and Clarke in the final two episodes. When Agyeman was signed to co-star in Law & Order: UK, her appearance was whittled down to a one-scene cameo, which was ultimately cut when she became completely unavailable. Clarke was forced to pull out at a later stage due to film commitments. (REF: Doctor Who: The Writer's Tale - The Final Chapter)
Also, Nicholas Briggs, who has written and acted in many licensed-by-BBC and unlicensed Doctor Who franchise spin-offs since the 1980s, and who is the revived Doctor Who series' resident alien voice-over artist, makes his first on-screen appearance in a televised Who-franchise production.
Production on this series began in August 2008.
In 2010 the Television Critics Association nominated the series for Best TV Movie, Miniseries and Special.[1] This series starred John Barrowman as Jack Harkness, Eve Myles as Gwen Cooper, Gareth David-Lloyd as Ianto Jones (in the first four episodes of the season) and Kai Owen as Rhys Williams.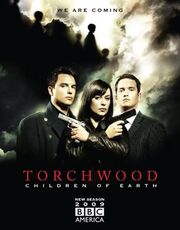 Series 3 of Torchwood is available for purchase and/or as part of a subscription on:
Amazon Video in Austria, Germany, the UK and US,
Netflix in 70 countries, which do not include Austria, Canada, France, Germany or the UK.
Stan in Australia which includes the rest of the series
Aliens and Enemies of TW Series 3
Community content is available under
CC-BY-SA
unless otherwise noted.