Information from any leaked videos or any other improperly released material is strictly disallowed on any part of this wiki. Similarly, images of any part of the production process — unless officially released by the BBC themselves or their licensees — are forbidden at Tardis.
Before editing this page, please read T:RUMOUR and T:OOU SRC. Fan sites, videos and blogs are not valid sources for this article. Also cast and crew announcements need to be handled in a particular way.
Please also remember to directly quote people, or to exactly characterise their statements. Do not say that someone said something when they really didn't. Work from original quotes — not a paraphrasing of them. When it comes to anything Chris Chibnall, Matt Strevens or any major star of the show says, give their exact quote only. Remember, a part of the production team's job is to tell the truth, but only very narrowly. So this page should contain only what they exactly say.

Series 12 of Doctor Who premiered on Wednesday 1 January 2020. Chris Chibnall remained in the position of executive producer whilst Jodie Whittaker, Tosin Cole, Mandip Gill and Bradley Walsh reprised their roles as the Thirteenth Doctor, Ryan Sinclair, Yasmin Khan and Graham O'Brien respectively.
In April 2015, Steven Moffat confirmed that Doctor Who would run for at least another five years, extending the show until 2020.[1]
In May 2017, it was announced that due to the terms of a deal between BBC Worldwide and SMG Pictures in China, the company has first right of refusal on the purchase for the Chinese market of past and future series and spin-offs, Torchwood and The Sarah Jane Adventures, of the programme.[2][3]
In October 2019, it was revealed that due to the show heading to HBO Max, the network had struck a deal for additional series of the programme.[4]
Whittaker announced her own return on Friday 7 December 2018, two days prior to the broadcast of the series 11 finale, The Battle of Ranskoor Av Kolos.[5] The series was announced almost immediately after the conclusion of said episode.[6]
A series of behind the scenes features were released to YouTube.
It continued an ongoing storyline, only briefly mentioned previous series, of "the Timeless Child".
As a huge difference from the complete reinvention from series 11, series 12 would return to more familiar ground, apparently hearkening back to the Russell T Davies and Steven Moffat eras .[7]
Series 12[8]
would go back to being "darker and scarier" in an attempt to stray from the lighter and more informative tone of the previous series.
This series saw the Doctor go in a direction that has never been seen before on the show, with Jodie Whittaker remarking that some of the episodes would "go in a direction that is different for the Doctor than the previous seasons, that shows a side to her that we haven't seen yet."[9]
This series also delved deeper into the companions' lives and went into the Doctor's past[10] and challenging the way they've seen the Doctor until now.
It was also teased that the words Time Lord and Gallifrey would also come into play, when Chibnall noted that in comparison to the previous series, "I don't think that she said the words Time Lord last year. I don't think that she said the word Gallifrey last year. She'll be saying those words this year".[11]
Actress Dominique Maher recorded ADR (additional dialogue replacement) for her character Browning in an Australian accent.[12]
The festive special for series 12 will either be a Christmas Special or a New Year Special, airing around the end of 2020.[13]
Series 12 brought back two-parters, after they had disappeared from the previous series.
Spyfall, the opening story of the series, was the first time since 2010's The End of Time that a two-parter didn't receive individual titles. Episode 1 also ended in a cliffhanger as a result of it being a two-parter.
As was done between series 8 and series 9, this series also saw some changes to the TARDIS compared to the previous series, in the form of a new crystalline column hanging from the ceiling just above the crystalline time rotor, a set a hexagon-filled gold stairs to an upper level that leads to the rest of the ship and new screens and systems and wall changes to make it look even bigger.
The "cold openings" returned for some of the episodes this series, having been notably absent in the previous series.
Series 12 once again featured a traditional series arc. This device was notably absent from series 11, but had been quite prominent in several earlier series since 2005.
The series finale, The Timeless Children, used an anagram for actor Sacha Dhawan on the Doctor Who website; "Barack Stemis" which, if re-arranged, means "Master is Back" and playing a false character called "Fakout".[14][15] This tactic, discounting in-universe examples from 2007's Utopia/The Sound of Drums/Last of the Time Lords, had not been seen since The King's Demons in 1983. Back then it was used in both the Radio Times listings and the credits of the episode.
Series 12 welcomed back the Master to the show in a new male incarnation played by Sacha Dhawan and disguised as an MI6 spy known as "O". The Master was last seen in series 10's The Doctor Falls with both their Harold Saxon incarnation played by John Simm and Missy incarnation played by Michelle Gomez.
Series 12 re-introduced the Judoon, giving them a central role in a television story for the first time since the series 6 mid-series finale A Good Man Goes to War in 2011. Judoon Captain Pol-Kon-Don was introduced.
Series 12 saw a return of Nanogenes, however this time serving as a threat to the former Time Agent Captain Jack Harkness, attacking him due to his theft of a spaceship, being part of an anti-theft attack system. They were last seen in series 7 opening story Asylum of the Daleks in 2012.
Although new characters, Zellin and Rakaya were the first time Immortal Gods made an appearance since the Great Intelligence, last seen in series 7 finale The Name of the Doctor in 2013.
The Cybermen also made their way back onto the small screen this series, in their first TV appearance since 2017 series 10 story The Doctor Falls (discounting archival footage in Twice Upon a Time), first in the form of a single Lone Cyberman, followed by a whole army of them, consisting of the Cybus/Mondasian cross-breed as Cyberguards and a new variant called Cyber-Warriors. They also utilised a new weaponry called Cyberdrones, which were flying Cyber-helmets.
The Time Lords return through a vision scene in the Matrix, for the first time since 2015 series 9 finale Hell Bent. A sole Time Lady was also seen working with the Judoon in Fugitive of the Judoon. The Timeless Child is the reason behind their ability to regenerate, giving the Time Lords their first on-screen origins story. The very first Gallifreyans are revealed to be Shobogans, first mentioned in The Deadly Assassin.
The Master creates a cross-breed between Cybermen and Time Lords which he calls CyberMasters.
The Daleks also made their way back, in their bronze design, albeit with a new black Dalek casing design introduced for one of them.[16] But like Series 11, they did not feature in the main series, instead popping up in the following special.[17]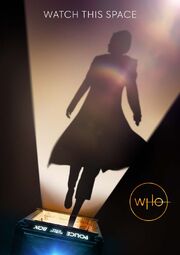 On 31 October 2019 the BBC released the first proper promotion of the coming series 12, in the form of a poster showing a shadow of the Thirteenth Doctor cast in the yellow light from the open TARDIS doors in the bottom corner. A faded rainbow appears across her chest, and the tagline says "Watch this Space". [18]
On 10 November, the BBC released a promo teaser for the new series on the Official Doctor Who YouTube Channel, with the camera zooming fast through a purple vortex to a region of space in which the TARDIS suddenly appears and zooms across, revealing first the tagline "Watch this Space" then the "Doctor Who" logo and the text "Coming Soon". The "Doctor Who" page itself said "Make Space... 23/11/19".[19]
At a Q&A session held at Sheffield Hallam University on 19 November, Chibnall told the audience that the opening story would be "the biggest episode in the show's history". A BBC One source to The Mirror said that "It's going to be huge. The scale is just epic. No one will be disappointed."[20] Whittaker added that "I feel like we're treading new ground for each of the character journeys, and the development of everybody's storylines."[21]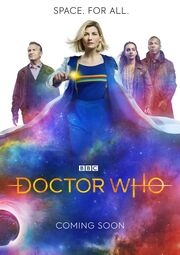 On 21 November the "Doctor Who" page posted a new poster, this time showing the entire main cast on a white background at the top and a region of space at the bottom. The poster said "Space. For All." as well as "Coming Soon".[22]
On 22 November the "Doctor Who" page posted a "Trailer Preview" video showing the 3 companions inside the TARDIS, nodding, to which the Doctor pulled a lever on the console. The preview then said "Trailer Premiere Saturday" with the page itself posting the time and the hashtag for Doctor Who Day.[23]
On 23 November the first official trailer for Series 12 was released on the Official Doctor Who YouTube Channel and on the "Doctor Who" page. It showed a lot of new and returning creatures and historical people as well as time periods.[24]
On 2 December the second official trailer for Series 12 was released on the YouTube channel and the official page. It followed up on what was shown in the first trailer as well as showing new content. It ended with a repeat of "Watch this Space" from the teaser trailer and was followed by the release date, "New Year's Day".[25]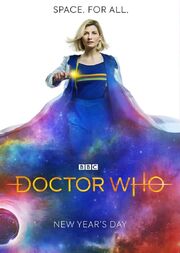 On the same day they re-released the second promo poster but with a slight alteration: instead of "Coming Soon", the text below reads "New Year's Day". The Doctor's companions are also not present in this poster variant.[26]
On 6 December, while promoting Fathom Events, the Doctor Who page repeated clips from the second trailer for the series.[27]
On the same day they released a "first look" at Episode 1 on their YouTube channel and on the Doctor Who page. It revealed an "impossible" mission for the Doctor and friends.[28]
On 8 December a "What To Expect" video was released on the official "Doctor Who" page and YouTube channel with Jodie, Mandip, Tosin, Bradley and Chris Chibnall telling viewers what to expect. The first official trailer was shown along with it.[29]
On the same day, a platoon of Judoon invaded Victoria Station to meet visitors, and a big interactive screen was put up, showing the "Watch this Space" teaser transitioning into the TARDIS landing on a surface invaded by Judoon.[30]
On 10 December a second "Preview" clip from the first episode was released. It showed Ryan and Yaz interviewing a spy.[31]
On 11 December a "New to Who?" video was released, offering a quick summary of the character of "The Doctor" and the show's premise to potential new viewers, showing a range of clips from the Thirteenth Doctor's time until now.[32]
On 12 December they released the video of the Judoon invading Victoria Station along with other parts of London and interviews with fans. The video was accompanied by a promise of the DVD and Blu-ray coming soon.[33]
On 16 December a video with the caption "She's Back" was released exclusively on the Doctor Who page on Facebook showing an compilation of clips from Series 11 along with some descriptive words of the Doctor in-between and ending with two clips from the new series.[34]
On 17 December they posted a promo poster of Team TARDIS in black suits in front of what seems to be a black hole with a ring of distorted light around it.[35]
On 21 December they posted a short "Words to Live By" video that had the "Space. For All" clip at the beginning and end, with a clip from each of the main "New Who" Doctors in-between.[36] On 23 December it was posted on their YouTube channel.[37]
On 24 December they posted a short video with a few clips from the second trailer and the words "Space For Adventure".[38]
On 25 December they posted a short video with a few clips from the second trailer and the words "Space For Hope".[39]
On 26 December they posted a short video with a few clips from the second trailer and the words "Space For Heroes".[40]
On 27 December they posted a short video with a few clips from the second trailer and the words "Space For Friendship".[41]
On 8 October 2020, a live-streamed video panel was held at New York Comic-Con, attended by Whittaker, Walsh and Gill. The panel teased the forthcoming winter special Revolution of the Daleks.[42]
At the same panel, the question was brought up about how a life sentence for a Time Lord would work, given the series finale conclusion with the Doctor being sentenced to life in a space prison and due to a Time Lord's life-span, to which Whittaker hinted that there might be answers given in Revolution.[43]
On 25 October 2020, on Guy Garvey's Radio 6 Slow Sunday interview with Jodie Whittaker, she did not correct him on his assertion that Revolution would be a Christmas Special, and simply said that it was "definitely worth the wait".[44]
On Doctor Who Day, 23rd November, the official Doctor Who website and YouTube channel released promo posters and a promo preview from Revolution, both showing the return of Captain Jack Harkness. The posters also showed the return of the Daleks.[45]
On 5 December, Chibnall revealed that the black-cased Dalek in Revolution was deliberately different from regular Daleks and hearkened back to the Reconnaissance Dalek from the previous special.[46]
Against earlier claims by news media, the trailer for the special that released on the 29 November revealed that it would actually be released on New Year's Day 2021.[47]
Regular episodes, apart from Spyfall: Part One, continued airing on Sundays, following on from the schedule established with series 11.[48]
On 17 December BFI Southbank held a press screening of Spyfall attended by cast and crew. Burgers branded with "DOCTOR WHO" were served.[49]
BBC America aired all full series and specials of New Who during the week between 24 December and 1 January in preparation for series 12. The network also aired animated "lost episodes" as an extra.[50]
On Sunday 5 January Fathom Events played host to a special screening of the premiere episode Spyfall as well as showing an early unveiling of the following episode.[50]
The trailer released on the 29 November revealed that Revolution of the Daleks would be a New Year Special, and not a Christmas Special like this Wiki said falsely for months.[47]
It was originally reported that pre-production on series 12 had begun in November 2018, with Ray Holman having updated his CV to say so. Furthermore it was said that filming would begin in January 2019.[51]
Chris Chibnall's initial statement on the twelfth series was "We're off again! Well we never actually stopped - as Jodie Whittaker's Doctor and friends have been winning the hearts of families across the nation this autumn, we've been busy with a whole new set of action-packed adventures for the Thirteenth Doctor. We adore making this show and have been blown away by the response from audiences, so we can't wait to bring more scares, more monsters and more Bradley Walsh, Mandip Gill and Tosin Cole to BBC One. Brilliant!"[6]
Charlotte Moore, Director of Content added, "We're delighted that the Doctor and her friends will be returning to thrill audiences in 2020. I know Chris and the whole team are already working on a whole new set of exciting adventures."[6]
In an article on the Daily Mail by Nicola Methven, she quotes a "show insider" as saying: "Last season, the theme was empowerment for women, mirroring what was happening elsewhere in the world. This time there will be an effort to get behind the message that what we're doing is killing our planet. Kids are really involved in these environmental issues so it's a perfect fit for Doctor Who."[52]
Chris Chibnall released an official statement, saying: "We're thrilled that Doctor Who continues to attract some of the most the most exciting and dynamic talent working in television. Along with our returning faces, we're excited to welcome new members to the Doctor Who family. The Doctor Who team is crammed with British television's brightest writers and directors: we've adored working with them, and can't wait to show you the explosive stuff they've created!"[53]
In an interview with Radio Times the cast and showrunner spoke about feeling "less pressure" heading into the second series, with Tosin stating: "Last year was new showrunner, new Doctor, new companions, new time of the show, so everything was just brand new – now that we've done that, everyone survived, everyone's OK, the fans have loved it." with Mandip adding: "There was a bit of uproar or whatever while we were doing it, but [the fans] proved that they do change with the Doctor – and they stay. So there's not that pressure of 'Are they gonna leave now?' – they've already committed to that journey with us.", and Chibnall followed up on that by saying: "There was more pressure last year, launching Jodie, launching a whole new family of companions, a new look, a new composer – it was a whole new team last year."[54]
Tash Montlake was one of the production assistants.[55]
Stefan Morris was one of the producers.[56]
Alex Mercer produced the festive special.[57][58]
Dafydd Shurmer, the previous series' art director, took over the position of production designer after Arwel Wyn Jones left.[59]
Producer Nikki Wilson noted that the crystal "fingers" in the TARDIS looked pink on camera; a colourist colour-corrected every TARDIS scene for series 11. For series 12, the LEDs in the "fingers" were completely redone to fix this problem.[60]
In an interview with Television Magazine in June 2017, Chibnall promised that his run would be "bold" and "risky".[61]
Headwriter Chris Chibnall wrote four episodes for the series, namely the two-part opener and the two-part finale. He also co-wrote the fifth, sixth and seventh episodes.
Series 11 writers Ed Hime, Vinay Patel, and Pete McTighe returned to each pen another script for this series. Nina Métivier, who served as script editor on series 11, also wrote a story for this series. New writers will include Maxine Alderton and Charlene James.
Sheena Bucktowonsing served as script editor on the series.[62]
Jamie Stone directed Block 1, consisting of episodes 1 and 6[63], as well as Block 5, consisting of 9 and 10.[64] Lee Haven Jones directed Block 2, consisting of episodes 2 and 3.[64] Nida Manzoor directed Block 3[65], consisting of episodes 4 and 5.[63] Emma Sullivan directed Block 4[64], consisting of episodes 7 and 8.[57]
Lee Haven Jones also directed the festive special.[58]
One director of photography this series was Ed Moore.
Caroline Pope was choreographer and movement director.[56]
Location filming on series 12 began on 23 January 2019 in Cape Town, South Africa.[66][67][68][69], with cast members having arrived in the country shortly beforehand.[66][70] Filming in South Africa ended on 7 February.[55]
Filming for the season took place in various location around Wales, including Cardiff,[71] Swansea,[72] Barry,[73] St Athan,[74] New Port,[75] Bridgend,[76] and Nash Point.[77]
Filming also took place in Tenerife[78], Bulgaria,[79], London[80], Gloucester[81] and Bristol.[16]
On the 25 October, the cast and crew held a Halloween-styled wrap party to celebrate that filming was nearing its end.[62]
Filming wrapped up completely on 19 November 2019, adding a short Wrap Up-video to prove it.[82]
Revolution of the Daleks was also filmed in winter 2019, over a year prior to broadcast, reportedly in order to attach it to series 12 filming, to give the cast a longer break.[83]
Unusually, sometime in November 2020, an extra scene was filmed for Revolution as part of a test day for startup on filming for Series 13 during COVID-19 restrictions.[84]
Although now debunked, Starburst Magazine had reportedly been in contact with the BBC back in November 2018, during which time, the BBC said that series 12 would air in Autumn 2019.[85] Starburst also claimed that Chris Chibnall and Jodie Whittaker had not been very happy behind the scenes, and were set to leave after series 12 had finished.[85]
A rumour of Chibnall's departure gained momentum once again in August 2019 when some Gallifrey Base spoiler hounds ambiguously reported that "Chibnall has already gone, it's chaos in Cardiff." This quickly spread to Twitter, Facebook, and Youtube.[86] The rumour was later denied as "nonsense" by BBC insiders, who went on to reference similar rumours of the past.[87]
Adaptations and merchandising
[
edit
|
edit source
]
The twelfth series was released on DVD and Blu-ray on 4 May, 2020 alongside the 2019 New Year Special Resolution[95] which was originally given a separate release from the previous eleventh series.[96]
to be added
Doctor Who
television stories
Series 2-4: David Tennant
Series 2: 2005-2006

Series 3: 2006-2007

Series 4: 2007-2010

Mini-episode
Christmas Special
Regular episodes
Mini-episode
Animated special
Seasonal specials
For the purposes of this list, "Series 4" is considered to be the production series 4, which ran all the way from Time Crash to The End of Time.

The years seen in this section may seem decidedly "off". Remember, however, that this list only gives the first year in which an episode from a series was broadcast. David Tennant, unusual amongst other Doctors, began and ended on special episodes, not regular ones. Thus, his series actually begin in 2005, 2006 and 2007 — not 2006, 2007 and 2008 as is commonly thought.
Community content is available under
CC-BY-SA
unless otherwise noted.