Careful . . . spoilers!
This page absolutely does contain spoilers either about the behind-the-scenes or narrative elements of stories which have not yet been published or broadcast. Please see our spoiler policy for our rules governing articles about such subjects.
Information from any leaked videos or any other improperly released material is strictly disallowed on any part of this wiki. Similarly, images of any part of the production process — unless officially released by the BBC themselves or their licensees — are forbidden at Tardis.
Before editing this page, please read T:RUMOUR and T:OOU SRC. Fan sites, videos and blogs are not valid sources for this article. Also cast and crew announcements need to be handled in a particular way.
Please also remember to directly quote people, or to exactly characterise their statements. Do not say that someone said something when they really didn't. Work from original quotes — not a paraphrasing of them. When it comes to anything Chris Chibnall, Matt Strevens or any major star of the show says, give their exact quote only. Remember, a part of the production team's job is to tell the truth, but only very narrowly. So this page should contain only what they exactly say.
Series 12 of Doctor Who was due to premiere in "very early"[1] 2020. Chris Chibnall remained in the position of executive producer whilst Jodie Whittaker, Tosin Cole, Mandip Gill and Bradley Walsh reprised their roles as the Thirteenth Doctor, Ryan Sinclair, Yasmin Khan and Graham O'Brien respectively.[2]
Whittaker announced her own return on Friday 7 December 2018, two days prior to the broadcast of the series 11 finale, The Battle of Ranskoor Av Kolos.[3] The series was announced almost immediately after the conclusion of said episode.[2]
Overview
Edit
Return to familiarity
Edit
As a huge difference from the complete reinvention from series 11, series 12 would return to more familiar ground, apparently hearkening back to the Russell T Davies and Steven Moffat eras.[4]
Series 12 would go back to being "darker and scarier" in an attempt to stray from the lighter and more informative tone of the previous series.[5]
Actress Dominique Maher recorded ADR (additional dialogue replacement) for her character in an Australian accent.[6]
After having disappeared from series 11, having been replaced by a New Year Special, the Christmas Special returned for series 12.[7]
Returning foes
Edit
Series 12 re-introduced the Judoon, giving them a central role in a television story for the first time since the series 6 mid-series finale A Good Man Goes to War in 2011.[8]
The Cybermen also made their way back onto the small screen this series, in their first TV appearance since 2017 story The Doctor Falls (discounting archival footage in Twice Upon a Time) in a way that would inspire Mary Shelley to create Frankenstein.[5]
The Daleks also made their way back, in their bronze design, albeit with a new black Dalek casing design introduced for one of them.[9]
Promotion
Edit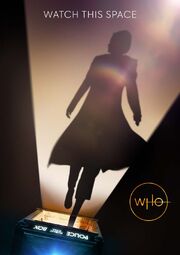 On 31 October 2019 the BBC released the first proper promotion of the coming series 12, in the form of a poster showing a shadow of the Thirteenth Doctor cast in the yellow light from the open TARDIS doors in the bottom corner. A faded rainbow appears across her chest, and the tagline says "Watch this Space".[10]
On the 10 November, the BBC released a promo teaser for the new series on the Official Doctor Who YouTube Channel, with the camera zooming fast through a purple vortex to a region of space in which the TARDIS suddenly appears and zooms across, revealing first the tagline "Watch this Space" then the "Doctor Who" logo and the text "Coming Soon". The "Doctor Who" pages themselves says "Make Space... 23/11/19".[11]
Recurring
Edit
Production
Edit
It was originally reported that pre-production on series 12 had begun in November 2018, with Ray Holman having updated his CV to say so. Furthermore it was said that filming would begin in January 2019.[31]
Chris Chibnall's initial statement on the twelfth series was "We're off again! Well we never actually stopped - as Jodie Whittaker's Doctor and friends have been winning the hearts of families across the nation this autumn, we've been busy with a whole new set of action-packed adventures for the Thirteenth Doctor. We adore making this show and have been blown away by the response from audiences, so we can't wait to bring more scares, more monsters and more Bradley Walsh, Mandip Gill and Tosin Cole to BBC One. Brilliant!"[2]
Charlotte Moore, Director of Content added, "We're delighted that the Doctor and her friends will be returning to thrill audiences in 2020. I know Chris and the whole team are already working on a whole new set of exciting adventures."[2]
Chris Chibnall released an official statement, saying: "We're thrilled that Doctor Who continues to attract some of the most the most exciting and dynamic talent working in television. Along with our returning faces, we're excited to welcome new members to the Doctor Who family. The Doctor Who team is crammed with British television's brightest writers and directors: we've adored working with them, and can't wait to show you the explosive stuff they've created!"[15]
Producers
Edit
Tash Montlake was one of the production assistants.[32]
Stefan Morris was one of the producers.[33]
Alex Mercer produced the Christmas Special.[34][7]
In an interview with Television Magazine in June 2017, Chibnall revealed a "five-year plan" for his reign as showrunner and promised that it would be "bold" and "risky".[35]
Headwriter Chris Chibnall wrote four episodes for the series.[36] Two of them were the opener and the finale.[15]
Ed Hime, Vinay Patel and Pete McTighe, who all wrote for series 11, will return to each pen another script for this series. Nina Métivier, who served as script editor on series 11, will be penning a story for this series. New writers will include Maxine Alderton and Charlene James.[36]
Sheena Bucktowonsing served as script editor on the series.[37]
(Alderton was also confirmed as "core writer" for Series 13[38])
Directors
Edit
Jamie Stone directed Block 1, consisting of episodes 1 and 5, as well as Block 5, consisting of 9 and 10.[39] Lee Haven Jones directed Block 2, consisting of episodes 2 and 3.[39] Nida Manzoor directed Block 3[21], consisting of episodes 4 and 6.[note 1] Emma Sullivan directed Block 4[39], consisting of episodes 7 and 8.[34]
Lee Haven Jones also directed the Christmas Special.[7]
One director of photography this series was Ed Moore.[18]
Caroline Pope was choreographer and movement director.[33]
Location filming on series 12 began on 23 January 2019 in Cape Town, South Africa.[40][12][41][42]
Shortly before series 12 began filming, Bradley Walsh revealed that he was in South Africa[40], and the rest of the main cast were spotted on a flight to Cape Town.[43]
Filming in "SA" ended on 7 February very early in the morning at Bowmans on Bree Street. Location filming also took place at Kogel Bay in Western Cape, Kersefontein Guest Farm in Hopefield[44], Table Mountain[45] and the Taal Monument.[32]
Filming then took place in Cardiff on 10 February which ended in the morning on 11 February.[46]
Filming also took place at Guildhall in Swansea, Wales on 18 February and 19 February.[47]
Filming returned to "Sheffield" outside Cardiff Central Police Station, having been set-dressed as Hallamshire Police, on 11 March.[48]
Filming took place in Porthkerry Country Park in Barry on 14, 15 and 26 March.[49]
Another shoot took place in Cory's Building on Bute Street in Cardiff, Wales on 18 March which ended very early in the morning on 19 March.[50] Following that filming took place on the street in front of Glamorgan Building at Cardiff University set dressed as Nazi-occupied Paris, which lasted to 20 March.[23]
Filming once again took place on Barry Island in an old railway tunnel on 27 March.[51]
Filming then took place at a Ministry of Defence unit in St. Athan, Wales on 28 March.[52]
Cast and crew went to Tenerife on 1 April to start filming on 2 and 3 April around Montaña Samara near Mount Teide. On 5 April they went to Santa Cruz to film in front of the Auditorio de Tenerife.[53]
Filming returned to Roath Lock Studios from 8 to 10 April.[19] Filming, however, quickly went to Barry Island once again on 11 April.[54]
From 29 April to 2 May filming took place at Tredegar House in the New Parlour, Side Hall and Morning Room.[55]
Filming returned to Bute Street for filming yet again in Cory's Building from 6 to 10 May.[56]
Filming took place inside the Gloucester Cathedral on 22 and 23 May.[57] On the latter day producer Nikki Wilson took two Judoon-actors aside to Berkeley Street to do special-effects shoots in front of a green screen.[1]
Filming took place in The Little Man Coffee Company on Bridge Street in Cardiff on 29 May.[20]
On the 30 May, filming took place in Cardiff Bay and at the banks by the nearby canal.[58]
Filming took place at Merthyr Mawr Estate in Bridgend, Wales on 28 June and 1 July.[13]
Filming took place on Pomeroy Street in the Butetown section of Cardiff on 23 July.[59]
Filming then took place on Spencer Street in Cardiff on 5 August.[60]
Filming took place at Nash Point in Wales on 20,[61] 21 and 22 August.[62]
Filming took place at Tyndall Street near Lumis Student Living in Cardiff on 2 October.[63] Filming continued on 5 October.[64] On 9 October filming took place adjacent to that location at Capital Quarter.[65]
Filming took place on Clifton Suspension Bridge in Bristol on 22 and 23 October.[9]
On the 25 October, the cast and crew held a Halloween-styled wrap party to celebrate that filming was nearing its end.[37]
On the nights of 29 and 30 October, filming took place inside Cardiff Castle, on the corner of Wharton and St Mary's Street in Cardiff and at Maindy Barracks.[66] Filming also happened at Capitol Shopping Centre on Churchill Way and wrapped up on the night of 30 October and early morning of 31 October.[67]
Although now debunked, Starburst Magazine had reportedly been in contact with the BBC back in November 2018, during which time, the BBC said that series 12 would air in Autumn 2019.[68] Starburst also claimed that Chris Chibnall and Jodie Whittaker had not been very happy behind the scenes, and were set to leave after series 12 had finished.[68]
Television stories
Edit
Christmas special
Edit
#
Title
Writer
Director
Notes
N/A
TBA
TBA
Lee Haven Jones[7]
Re-introduction of the Christmas Special.

The bronze Daleks, including a special black Dalek, returned.[71]
Regular series
Edit
Aliens and enemies
Edit
Adaptations and merchandising
Edit
Home media
Edit
to be added
to be added
Footnotes
Edit
Doctor Who
television stories
Series 2-4: David Tennant
Series 2: 2005-2006

Series 3: 2006-2007

Series 4: 2007-2010

Mini-episode
Christmas special
Regular episodes
Mini-episode
Animated special
Seasonal specials
For the purposes of this list, "Series 4" is considered to be the production series 4, which ran all the way from Time Crash to The End of Time.

The years seen in this section may seem decidedly "off". Remember, however, that this list only gives the first year in which an episode from a series was broadcast. David Tennant, unusual amongst other Doctors, began and ended on special episodes, not regular ones. Thus, his series actually begin in 2005, 2006 and 2007 — not 2006, 2007 and 2008 as is commonly thought.
Community content is available under
CC-BY-SA
unless otherwise noted.