'Doctor Who' Series 11 Official Trailer
Play Sound

Series 11 of the revived Doctor Who ran from 7 October 2018 to 9 December 2018. It starred Jodie Whittaker as the Thirteenth Doctor, Bradley Walsh as Graham, Tosin Cole as Ryan and Mandip Gill as Yasmin. The series opened with The Woman Who Fell to Earth and concluded with The Battle of Ranskoor Av Kolos, with an additional New Years Special, Resolution, airing in 2019.
Alongside introducing the first female incarnation of the Doctor, the series was notable for avoiding overarching storylines and the use of "classic" aliens and monsters, both staples of almost every series of the revived series up to that point. Despite not featuring its own storyline, series 11 did include the first mention of the Timeless Child, which would be explored in Series 12.
Overview
[
]
Series 11 consisted of ten episodes and one New Years special. Chris Chibnall took over as showrunner with series 11, following the exit of Steven Moffat.
A female Doctor
[
]
Chris Chibnall revealed in July 2017 that he "always knew I wanted the 13th Doctor to be a woman, and we're thrilled to have secured our number one choice."[1][2] Prior to Jodie's reveal, bets on who would be the next Doctor were hype, with names like Phoebe Waller-Bridge and Kris Marshall among fan favourites.[3]
Whittaker, herself, stated, "I'm beyond excited to begin this epic journey … It's more than an honour to play the Doctor [...] It feels completely overwhelming, as a feminist, as a woman, as an actor, as a human, as someone who wants to continually push themselves and challenge themselves, and not be boxed in by what you're told you can and can't be."[1]
Peter Capaldi, Whittaker's predecessor, stated his full confidence that "she's going to be a fantastic Doctor". "Anyone who has seen Jodie Whittaker's work will know that she is a wonderful actress of great individuality and charm. She has above all the huge heart to play this most special part."[1] Capaldi had previously expressed that he wanted the next actor to take the role to finally be a woman.[4]
In an interview with Doctor Who Magazine, Whittaker stated that the new incarnation will not fundamentally change the character of the Doctor, saying: "It's a brand new body, and the body happens to be female."[5]
In an interview with Rolling Stone on 5 September 2017, Whittaker said that: "As a young girl, I did not think that 'Time Lord' would ever be on my CV." She continued: "I'm playing an alien and gender is not a part of that. A moment like this of being the first woman cast as something, it makes you really think about your sex, whereas actually what you want to do is play a part where your gender is irrelevant. I am a woman, so I don't need to play that. And so for me, this was the most freeing experience because there's no right or wrong way to do it. The rules went out the window."[6]
Speaking exclusively to The Big Issue, Whittaker said she hoped her role as the Doctor would help people to start seeing women as more than just a genre.[7]
Speaking to Doctor Who Magazine, Jodie revealed that her Doctor would be "high energy" and that "…every episode requires a different side to her".[8]
New TARDIS team
[
]
On 22 October 2017, it was revealed that Whittaker would be joined by Bradley Walsh, Mandip Gill and Tosin Cole in the TARDIS, as well as Sharon D Clarke joining the show as a "returning role". The BBC said in a statement: "New head writer and executive producer Chris Chibnall, who made the decision to cast the first ever woman in the iconic role, is also shaking up who will travel with the Doctor in [the TARDIS], with a team of new characters", at the same time also confirming that the new series would run through 10 weeks, with 50 minutes each episode and kicking off with a feature-length opener.[9]
Jodie Whittaker further told Times Magazine that there would be no romance between the TARDIS crew.[10]
In a video recorded by the BBC America, Jodie teased huge character arcs for the Doctor and her companions.[11]
Speaking to Digital Spy, Chibnall and Jodie revealed that the new series would not be focused on the Doctor, saying it would have "an ensemble feel".[12]
Changes in production
[
]
In early 2018, Murray Gold announced his departure from Doctor Who at the Gallifrey One convention, confirming that the 2017 Christmas Special, Twice Upon a Time, was his last episode.[13] On 26 June it was announced that Segun Akinola, would be composing the music for the new era, including a fresh new take on the legendary theme tune, which Akinola said he was "thrilled" about.[14] Akinola later revealed that his version of the new theme would feature original recordings of the very first Delia Derbyshire BBC Radiophonic Workshop tune from 1963.[15]
Series 11 is the first Doctor Who job for the visual effects company DNEG, whose previous work can be found on Blade Runner 2049, Interstellar and Inception.[16][17] Series 11 would set a record for the most CGI/VFX effects ever used in the franchise.[18]
Promotion
[
]
A teaser was released on 21 February 2018. The new logo was designed by the LittleHawk agency following Chris Chibnall and Matt Strevens' directions, while the music and sound effects were the work of Matthew Herbert.[19]
On 13 July, the BBC released a 12-second soundless teaser showing off the new insignia cut into a rock, followed by a black screen which reads, "The Universe is Calling".[20]
On 15 July, the BBC released a new teaser during the half-time of the football World Cup, which showed a brief introduction of the new companions, Ryan, Yasmin and Graham, and lastly the Doctor herself.[21] The music of the trailer was composed by Jamie Salisbury.[22]
On 19 July, the official trailer for series 11 was revealed in Hall H at San Diego Comic-Con, along with the new sonic screwdriver.[24]
On 7 September, a second teaser trailer was released showing the Doctor standing in the middle of a great hall, while a glass ceiling crashes down around her, with "Glorious" by Macklemore and Skylar Grey playing in the background.[25]
On 20 September, a second trailer for the series was released, giving a better look at some of the locations and revealing a few of the new enemies. This trailer also used the song Glorious.[26]
A preview clip for The Woman Who Fell to Earth was released on 28 September.[27] This happens to be the same clip that was leaked back in late June.[28]
Nikesh Patel told Doctor Who Magazine that the end of year special would be a "popcorn, blockbuster".[29] For the Special, the Doctor added a scarf to her choice of clothes. The scarf in question was brought on set by make-up designer Claire Pritchard for production designer Arwel Wyn Jones who in turn was seen wearing it by costume designer Ray Holman who brought it to Jodie Whittaker.[30]
Other notable changes
[
]
During an interview at the Comic-Con on 19 July, Chibnall stated that series 11 would be all standalone episodes.[31] Matt Strevens told Empire magazine that Series 11 would be "a box of chocolates", giving viewers something new in each episode.[32]
Chibnall further confirmed that the Daleks would not return for the entire series[33], saying "I don't know how many times I need to say it. There are no old monsters this series".[34] Furthermore, there would be no River Song, Missy, Paternoster Gang or Cybermen.[35]
The following New Year Special, however went on to feature a new kind of Dalek.
The New Years Special furthermore marked the second of its kind, not seen since 2010, and replaced the annual Christmas Special, which had been a consistent part of the show since its return in 2005.
In an interview, Chibnall told that the new series would have something for everyone, hoping that while bringing in new viewers, the long-term fans could expect everything they love about the show, saying "The show has a history of renewal, while also staying faithful to what it is."[36] Whittaker further said that this would be a very inclusive series, saying "Doctor Who is for everyone and anyone…".[37]
Jodie Whittaker revealed that the series would "go back to basics", being as simplistic and easily understandable as possible.[38]
Whittaker and Chibnall said, during an interview with The Times, that this Doctor would have "no tears" (a far cry from recent incarnations) and would be more outward-looking compared to Peter Capaldi's Twelfth Doctor.[34]
The series had no series arc, having briefly mentioned a Timeless Child but not exploring it further.
The series also got completely rid of two-parters, making every single episode a standalone story, although The Woman Who Fell to Earth did have a form of cliffhanger that led into the opening of The Ghost Monument.
A series of behind the scenes features were released to YouTube.
Broadcast
[
]
Sharmill Films announced a cinema event for series 11[39] that saw The Woman Who Fell to Earth shown in select cinemas in Australia and New Zealand. BTS stuff was also be shown.[40] The AMC Theatres chain showed said episode on 10 October in the U.S., also including bonus content,[41] it was done in collaboration with Fathom Events.[42]
The timeslot for the series was changed from the usual Saturdays to a Sunday slot with the following special being shown on a Tuesday in order to fit a New Year broadcast.
After the UK broadcast, ABC iView premiered the episodes. Following that, ABC Comedy ran the fan show Whovians, hosted by Rove McManus.[40]
A press launch screening of The Woman Who Fell to Earth occurred on 24 September in Sheffield. Fans were able to attend the Red Carpet and meet the cast up close, but the actual screening was invite-only.[43] The press launch screening was scheduled to happen in the Light Cinema.[44]
The opening episode, The Woman Who Fell to Earth was screened at New York Comic Con in the Hulu Theater at Madison Square Garden at 1.45 pm simultaneously to its premiere on BBC America. The screening was followed by a Q&A panel with Jodie, Chibnall and Matt Strevens.[45]
Along with each episode, a one-minute Case File was released. In it, Yasmin Khan spoke about the monster(s) of the week, resurrecting a form that had been used years previously with Monster Files.
A special press screening was held at BFI Southbank on the 18 December, attended by Chibnall, Whittaker, Yip and various others.[46]
A special screening of the New Year Special was held by Event Brite at The Red Lion Pub in Chicago, Illinois on the 1 January 2019.[47]
Cast
[
]
Recurring
[
]
Guest
[
]
Production
[
]
Unusually, series 11 had a global premiere, with many markets around the world having at least the same start time. Oddly, though, The Woman Who Fell to Earth was initially broadcast in an altered visual form in some markets. Although it was the first episode of the programme filmed in a 2:1 aspect ratio, its global premiere on networks like BBC America and Space was actually in the previous standard of 16:9. This had the effect of truncating some of the frame.
Crew
[
]
Producers
[
]
Tash Montlake was one of the production assistants.
Chris Chibnall and Matt Strevens were co-executive producers. They were later joined by Sam Hoyle. Nikki Wilson returned, this time as series producer, now joined by Alex Mercer, the new producer.
In an interview with Television Magazine in June 2017, Chibnall promised that his run would be "bold" and "risky".[48]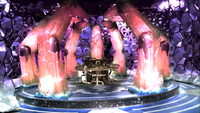 Producer Nikki Wilson noted that the crystal "fingers" in the TARDIS looked pink on camera; a colourist colour-corrected every TARDIS scene for series 11. For series 12, the LEDs in the "fingers" were completely redone to fix this problem.[49]
Writers
[
]
Alongside Chris Chibnall, a variety of new names joined to pen the series. These were Malorie Blackman, who previously wrote an official Seventh Doctor tie-in novella, Ed Hime, Vinay Patel, Pete McTighe and Joy Wilkinson. Chibnall wrote episode 1 and 2.
When interviewed for an issue of SFX Magazine, Chibnall revealed that the writers had no idea that they were writing stories for a female Doctor, saying "a lot of drafts of scripts have got 'he' in".[50]
Directors
[
]
Jamie Childs directed the trailer that revealed Whittaker as the Thirteenth Doctor.[51] He also directed episodes 1 and 6, as well as episodes 9 and 10. Sallie Aprahamian directed episodes 4 and 8. Mark Tonderai directed episodes 2 and 3. Jennifer Perrott directed episodes 5 and 7. Wayne Yip directed this series' holiday special.
Acting
[
]
At the premiere of The Woman Who Fell to Earth in Sheffield on 24 September, Jodie Whittaker revealed that for episode 1 only, she did all of her own stunts. For the remainder of the series, Whittaker's stunt double Belinda McGinley took over. Tosin Cole additionally added that he acted being bad at riding a bicycle,[52] because of his character's dyspraxia.[53]
At the same event, Bradley Walsh revealed that he's wearing a wig for the entire series, due to his character's requirement to look older, and him not being that old, and because he's hosting The Chase too.[54]
Filming
[
]
Jodie Whittaker used the codename "The Clooney", a reference to actor George Clooney, when discussing her role.[55]
On the 3 August 2018, it was announced that filming of series 11 had officially wrapped.[56]
During auditions, the show was referred to as "Plane Hitters".[57]
Television stories
[
]
Regular series
[
]
New Year special
[
]
Episode notes
[
]
The new title sequence wasn't fully shown until episode 2. Though Sleep No More had previously featured an opening that was absent of the usual opening title sequence of the time, this was the first instance in which no opening title card of any kind was shown.
For the second episode, The Ghost Monument, Timeslice Cinematography provided aerial shots.[58]
Series 11 was the third season in which every story had the same episode count, following Season 18 and Series 7. Season 17 was also released as composed entirely of four-parters but the unproduced Shada was planned as a six-parter. Also, if one counts The Trial of a Time Lord as a single story, Season 23 technically counts by virtue of only having a single 14-episode story in it.
This was the first season of the revived series not to feature any Scottish actor or actress in the role of either the Doctor or a companion.
Series 11 was the first season in the revived series without any episodes written or co-written by Steven Moffat, the first since Series 4 without any by Mark Gatiss, the first since Series 7 without any by Peter Harness or Jamie Mathieson, and the first since Series 8 without any by Toby Whithouse or Sarah Dollard.
This series is the first since Season 26 that no episodes featured a "cold opening".
Chris Chibnall brought the show back to its original intention of being an educational show.[59] Three episodes are set in past, three episodes are set in future and the rest are set in present day.
Paul Sturgess played a tall mole-like creature in It Takes You Away. He was cut from the final product.[60]
The voice-over speech given by the Thirteenth Doctor in the first trailer is nowhere to be heard in the entire series.
The New Years Special is the first full Doctor Who television story to not feature a Doctor Who logo and the second episode of this series in which the opening titles are omitted.
The café in the New Years Special appears to be the same one in which Ryan was eating in the

Series 11 teaser

. Similarly, Graham is seen reading the same copy of the Sheffield Advertiser as in the teaser.
The New Years Special is the first television story in which Nicholas Briggs is credited as "Nick Briggs".
Showrunner Chris Chibnall is the only writer for Series 11 to have previously written for Doctor Who, although Malorie Blackman previously wrote the Puffin eshort The Ripple Effect featuring the Seventh Doctor for the 50th Anniversary.
Since The Impossible Planet, for singular episodes, the "Next Time" trailer was shown before the credits rolled and for the second parters, the first part would show the "Next Time" for the next episode at the end of the credits. From Series 11 onwards, all "Next Time" trailers would be shown after the credits rolled and if it was a special, it would simply say "The Doctor will return".
Aliens and enemies
[
]
Adaptations and merchandising
[
]
Home media
[
]
DVD / Blu-ray
[
]
The eleventh series was released on DVD and Blu-ray on 14 January 2019 in Region 2/B,[61] on 29 January 2019 in Region 1/A [62] and Region 4/B on 30 June 2019.[63] Resolution was given a separate release in Region 1/A[64] but was later also added to the Box Set release of the following twelfth series.[65]
Stories set during this season
[
]
Novels
[
]
Audiobooks
[
]
to be added
Footnotes
[
]
Doctor Who
television stories
Series 2-4: David Tennant
Series 2: 2005-2006

Series 3: 2006-2007

Series 4: 2007-2010

Mini-episode
Christmas Special
Regular episodes
Mini-episode
Animated special
Seasonal specials
For the purposes of this list, "Series 4" is considered to be the production series 4, which ran all the way from Time Crash to The End of Time.

The years seen in this section may seem decidedly "off". Remember, however, that this list only gives the first year in which an episode from a series was broadcast. David Tennant, unusual amongst other Doctors, began and ended on special episodes, not regular ones. Thus, his series actually begin in 2005, 2006 and 2007 — not 2006, 2007 and 2008 as is commonly thought.