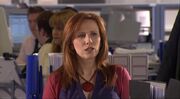 A secretary was an individual that assisted another in organising and managing an office.
Early history
Edit
Fothergill was Thomas Cromwell's secretary until he was killed by Solvers in 1538. (AUDIO: The Eighth Piece, The Doomsday Chronometer)
Roger Colbert was the Abbot of Amboise's temporary secretary during the Abbot's stay in Paris in August 1572. (TV: The Massacre)
20th century
Edit
Adelaide Lessage was Lord Henry Palmerdale's secretary. (TV: Horror of Fang Rock)
According to one account, Dodo Chaplet went on to have a mundane career as a secretary after leaving the First Doctor. (PROSE: Ships)
Polly Wright was Professor Brett's secretary before becoming a companion of the First Doctor. (TV: The War Machines)
Jean Rock was the Commandant of Gatwick Airport's secretary in 1966. (TV: The Faceless Ones)
Sylvia was Rex Farrel's secretary at Farrel Plastics. (TV: Terror of the Autons)
Third Officer Jane Blythe was a Royal Navy officer who served as Captain John Hart's secretary at HMS Seaspite. (TV: The Sea Devils)
Stella was Jocelyn Stevens' secretary at Global Chemicals. (TV: The Green Death)
Molly Wright was secretary to the dean of the school of history at the University of Frodsham in 1983. (AUDIO:The Lady Of Mercia)
21st century
Edit
Matthew was Yvonne Hartman's secretary at Torchwood One in 2005. Tommy Pierce was suspicious of him, believing that no man would want to be a secretary. (AUDIO: Blind Summit)
Idris Hopper was Margaret Blaine's secretary. He failed to stop the Ninth Doctor entering her office as she fled out a window. (TV: Boom Town)
Whilst disguised as a human named "Victor Kennedy", the Abzorbaloff had a secretary whom he eventually absorbed, killing her. (WC: Tardisode 10, TV: Love & Monsters)
Donna Noble was a temporary secretary at H.C. Clements when she first met the Tenth Doctor. (TV: The Runaway Bride)
Most schools had a secretary, including Coal Hill School. (TV: Into the Dalek, Kill the Moon)
Later history
Edit
Dora, the President of Earth in 2540, had a secretary. (TV: Frontier in Space)
Vorlin was a Time Lord secretary. (AUDIO: The Satanic Mill)
Community content is available under
CC-BY-SA
unless otherwise noted.