Second Time Around: The Troughton Years (documentary) was a retrospective documentary on Patrick Troughton's tenure as the Second Doctor.
Publisher's summary
Faced with William Hartnell's deteriorating health but with a popular TV programme on their hands, the Doctor Who production team hit on the idea of "regenerating" the show's hero and give him a new body. This documentary looks back over Patrick Troughton's tenure as the Second Doctor. With actors Anneke Wills, Deborah Watling, Wendy Padbury and Frazer Hines, producer and script editor Derrick Sherwin, writer and script editor Terrance Dicks, director Christopher Barry, writer Victor Pemberton and new series writer Robert Shearman, and new series script editor Gary Russell. Narrated by Richard Heffer.
Main subject
Writers, directors, actors and other people associated with Doctor Who discuss Patrick Troughton's time as the Second Doctor, from his first appearance at the end of The Tenth Planet to his final appearance in The War Games.
Additional topics covered
to be added
People interviewed
In order of credited appearance.
Home video releases
It was included in the 2012 DVD release of The Krotons.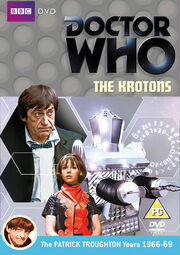 Community content is available under
CC-BY-SA
unless otherwise noted.