Jurassic World: Dominion Dominates Fandom Wikis - The Loop
Play Sound

You may wish to consult Series 8 for other, similarly-named pages.
Season 8 of Doctor Who ran from 2 January 1971 to 19 June 1971. It starred Jon Pertwee as the Third Doctor, Katy Manning as Jo Grant, Nicholas Courtney as Brigadier Lethbridge-Stewart, Richard Franklin as Mike Yates, John Levene as John Benton and Roger Delgado as the Master. The season opened with Terror of the Autons and concluded with The Dæmons.
Overview
[
]
It consisted of five serials comprised of twenty-five episodes. As of 2017companion in the form of Jo Grant, but it featured a regular enemy — the Master — who was the first Time Lord enemy of the Doctor to appear more than twice, and an expanded regular UNIT cast that now included Sergeant Benton and Mike Yates in most episodes. Adding in returning regulars Jon Pertwee and Nicholas Courtney, the regular cast swelled to six.
, season 8 remains notable for being the season with the most number of regular characters. Not only did it see a new
Television stories
[
]
Cast
[
]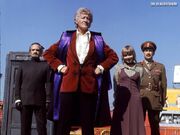 Recurring
[
]
Guest
[
]
Stories set during this season
[
]
Based on Theory:Timeline - Third Doctor
Pre-Season
Between Terror of the Autons & The Mind of Evil
Between The Mind of Evil and The Claws of Axos
Post-Season
Adaptations and merchandising
[
]
Home media
[
]
VHS releases
[
]
DVD & Blu-ray releases
[
]
All serials of season 8 were released individually on DVD between 2005 and 2013. The complete season was upscaled in 1080i50 high definition and released on Blu-ray as Doctor Who: The Collection - Season 8 in the UK on 8 March 2021.
Picture restoration was undertaken by Peter Crocker, with sound restoration by Mark Ayres. Design and illustration was provided by Lee Binding. The Executive Producer was Russell Minton.
The Dæmons required significant additional colour restoration. This was undertaken by Gavin Rymill, Anthony Lamb and 'Dr Hue' colourisers Rich Tipple and Kieran Highman.
Serial name
Number and duration
of episodes
R2 release date
R4 release date
R1 release date
Terror of the Autons
Only available as part of the Mannequin Mania box set in Regions 2 and 4.
Only available individually in Region 1.
4 × 25 min.
9 May 2011
2 June 2011
10 May 2011
The Mind of Evil
6 × 25 min.
3 June 2013
5 June 2014
11 June 2013
The Claws of Axos
4 × 25 min.
25 April 2005
2 June 2005
8 November 2005
Colony in Space
6 × 25 min.
3 October 2011
1 December 2011
8 November 2011
The Dæmons
5 × 25 min.
19 March 2012
19 April 2012
10 April 2012
Download/streaming availability
[
]
BritBox is available only in the US. iTunes stores carry Doctor Who serials in Australia, Canada, France, Germany, the UK and US, unless stated otherwise.
Novels
[
]
External links
[
]
Doctor Who
television stories
Seasons 7-11: Jon Pertwee
Season 7: 1970
Season 8: 1971
Season 9: 1972
Season 10: 1972-1973
Season 11: 1973-1974
Contrary to common belief, season 10 kicked off in the last week of December 1972 — not in 1973, as would be expected. Season 10 actually began nine years after season 1 started. In fact, The Three Doctors began nine years to the week after The Daleks first aired.
Series 2-4: David Tennant
Series 2: 2005-2006

Series 3: 2006-2007

Series 4: 2007-2010

Mini-episode
Christmas Special
Regular episodes
Mini-episode
Animated special
Seasonal specials
For the purposes of this list, "Series 4" is considered to be the production series 4, which ran all the way from Time Crash to The End of Time.

The years seen in this section may seem decidedly "off". Remember, however, that this list only gives the first year in which an episode from a series was broadcast. David Tennant, unusual amongst other Doctors, began and ended on special episodes, not regular ones. Thus, his series actually begin in 2005, 2006 and 2007 — not 2006, 2007 and 2008 as is commonly thought.