Search Out Space was a special edition of Search Out Science, a children's education programme in which Sylvester McCoy and Sophie Aldred appeared as the Seventh Doctor and Ace.
It was broadcast nearly a year after Survival, which marked the end of the original Doctor Who series. John Leeson provided the voice of K9 for the first time since The Five Doctors.
Synopsis
Edit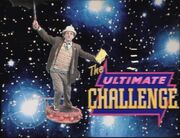 The Seventh Doctor, Ace, K9 and Cedric are taking part of a game show to see who can host The Ultimate Challenge.
They will show you the Earth and its Solar System.
to be added
References
Edit
Story notes
Edit
Search Out Space was included as an extra on the DVD of Survival.
The Doctor and his companions were invited to appear on a quiz show in the short story Storm in a Tikka, which bridges this story with the events of the television story Dimensions in Time.
If one considers this a "Doctor Who story," its transmission in 1990 means that there were 27 years of Doctor Who televised stories instead of 26.
Search Out Space is one of four non-spin-off Doctor Who on screen stories from the 1990s, the others being Dimensions in Time, the TV Movie, Destiny of the Doctors and Introduction to the Night.
External links
Edit
Community content is available under
CC-BY-SA
unless otherwise noted.