This article needs to be updated.
Information from The Ghosts of Greenwich needs to be added.
These omissions are so great that the article's factual accuracy has been compromised. Check out the discussion page and revision history for further clues about what needs to be updated in this article.

The Royal Observatory was located in Greenwich at the former site of Greenwich Castle. It was constructed in 1675 on the orders of King Charles II and designed by Christopher Wren. (AUDIO: The Ghosts of Greenwich)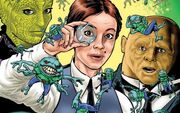 In February 1894, a large telescope was installed in the observatory. Shortly afterwards, hundreds of Gremlins settled in the building. William Christie, an astronomer who worked at the observatory, noticed bite marks left the Gremlins and contacted the Paternoster Gang. Vastra recognised the signs that Gremlins were responsible and used a magnifying glass that could increase peripheral vision through time to see them. The Gremlins began taking the building apart piece by piece. They removed screws, rivets, the lens of the large telescope, and parts of the domed roof. Jenny Flint used the magnifying glass to talk to the Gremlins and negotiate with them to restore all the damage they did. (PROSE: The Curious Case of the Miniature Menace)
Behind the scenes
Edit
In real life, a bomb went off in the Royal Observatory in February 1894. [1]
Community content is available under
CC-BY-SA
unless otherwise noted.