River Runs Wild was the episode of Doctor Who Confidential broadcast in conjunction with Let's Kill Hitler.
Aspects of production covered
[
edit
|
edit source
]
to be added
Steven Moffat, Alex Kingston, Nina Toussaint-White, and Richard Senior spoke about different aspects of River Song's story.
There is additional camera footage of the major scenes.
We were shown more of Karen, Arthur, and Matt behind scenes.
Arthur talked about how it felt to get to punch Hitler in the face.
The time crunch they faced while filming in the restaurant.
Matt spoke on acting like you're dying.
Steven Moffat spoke on River's actions and confirmed that River Song gave up all of her remaining regenerations to save the Doctor.
A Day in the Life: Stunt Team.
Script to Screen winner revealed.
"The Ecstasy of Gold (from 'The Good, The Bad and the Ugly')" by City Of Prague Philharmonic Orchestra & Crouch End Festival Chorus
"Peer Gynt Suite No. 1: I. Morning (Allegretto pastorale)" by London Philharmonic Orchestra, Album: Grieg: Peer Gynt Suite - Ibsen: Scene from Peer Gynt
"Louder" by DJ Fresh feat. Sian Evans
"Little Red Corvette" by Prince
"The Recluse" by Plan B
"OomPapa" by Christian Marsac, Album: International Cheese & Silliness ANW 1191
"C'Mon (Catch 'Em by Surprise)" by Tiësto vs. Diplo feat. Busta Rhymes
"Boom Boom" by John Lee Hooker
"Something Good Can Work" by Two Door Cinema Club
"Je t'aime… moi non plus" by Jane Birkin & Serge Gainsbourg (also used in DCOM: Script to Screen)
"Ghosts 'n' Stuff" by Deadmau5
"Primal Fear" by Dave James, Album: US Hip Hop & RnB ANW 1572
"Tonight's the Kind of Night" by Noah & The Whale
"The Bike Song" by Mark Ronson & The Business Intl.
"Get Dirty" by Raphael Lake, Album: Electropop 2 XCD195 (also used in DCOM: When Time Froze)
"On My Own (Instrumental)" by Yasmin
"Covert Surveillance" by Christopher Ashmore & Benjamin Marks, Album: Drama, Light Tension Grooves ANW 1432
"Firework" by Katy Perry
"Pachelbel: Canon in D" by Richard Hickox Orchestra, Album: The World of Classical Favourites
"Paper Planes" by M.I.A.
"Brixton Briefcase" by Chase & Status feat. Cee-Lo Green
"Lippy Kids" by Elbow
"End Credits" by Chase & Status feat. Plan B
Elements retained in Cut Down

[

edit

|

edit source

]
to be added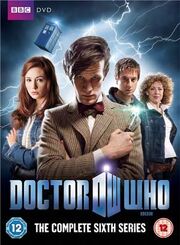 The "Cut Down" version of this episode was included on the Doctor Who: The Complete Sixth Series DVD & Blu-ray box set released on 21 November 2011.
Community content is available under
CC-BY-SA
unless otherwise noted.