Resistance was the ninth story of the third series in the Companion Chronicles range. It was produced by Big Finish Productions. It was written by Steve Lyons, narrated by Anneke Wills and featured the Second Doctor, Ben Jackson, Polly Wright and Jamie McCrimmon.
Though it was not the first Big Finish release to feature the vocal talents of Anneke Wills, it was the first time that she had played the character of Polly Wright since the television story The Faceless Ones in 1967. It was further notable for being a so-called "pure historical" — a story that occurred in Earth's past and involved no alien but the Doctor.
Because of its setting in 1944, one year after Polly's birth, it explored details about Polly's personal past. Amongst other things, it was the first piece of performed Doctor Who in which Polly's last name was definitively confirmed to be "Wright".
Publisher's summary
[
]
February, 1944: France is occupied by the Third Reich, the French Gestapo has an iron grip and the native resistance attempts to overthrow the invaders. On one quiet winter's night, a British plane crashes to the ground, leaving a flying officer desperate to escape via the evasion lines.
Separated from the TARDIS, Ben and Jamie, the Doctor and Polly find themselves with enemies on all sides. Trapped in one of the darkest times in history, Polly discovers that humanity can be just as dangerous as any threat from outer space. She resolves to make a difference — even if it means leaving the Doctor forever...
Plot
[
]
Part one
[
]
to be added
Part two
[
]
to be added
Cast
[
]
References
[
]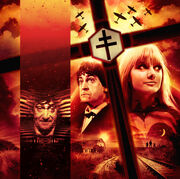 Notes
[
]
The script allows Anneke Wills and John Sackville to share narration duties, though Wills exclusively narrates any scenes involving the TARDIS crew. There is no particularly strong narrative reason for this, but it does help the listener distinguish between two types of scene. Ones where Polly was present are narrated by Wills, while Sackville handles narration duties for scenes where Polly was not ostensibly within earshot.
Unlike many stories in the Companion Chronicles range, there is no "framing element" in which an older Polly has some sort of narrative in the present with another character. Instead, the story begins and ends firmly in 1944, with Polly never appearing as some sort of older version of herself, though some lines indicate that her narration takes place some time later.
Polly was not given a surname in televised Doctor Who. "Wright" being Polly's surname was introduced by Gary Russell in the novel Invasion of the Cat-People.
This story introduces Polly's uncle, Randolph Wright, also first mentioned in Invasion of the Cat-People, and gives more details about Polly's family than any other story.
Chronologically, this was the earliest audio drama to feature the Second Doctor until the release of The Curator's Egg in 2018.
This audio drama was recorded on 2 May 2008 at the Moat Studios.
This story is set between The Macra Terror and The Faceless Ones.
Continuity
[
]
External links
[
]