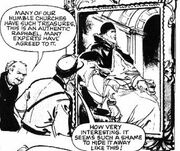 Raphael was a painter who created works highly prized by the 20th century.
One of his paintings was held in an old church in Borosini, a small village in northern Italy. During World War II, in the Italian theatre, it was discovered by Lieutenant Schuler of the Nazis' Special Service Division. The local priest, Father Antonio, confirmed its authenticity. Impressed, the Nazis privately considered informed Reich-Marshal Goering about their unexpected find. Although the painting was placed under watch during the night, it was stolen by a German raiding party. The Fourth Doctor helped partisans under Giovanni to recover the painting as well as other Italian treasures looted by the Germans. The Raphael was hidden in the TARDIS and returned to Borosini in April 1948. (COMIC: Treasure Trail)
According to the Fifth Doctor, his works were a fixed point in time. (AUDIO: Fallen Angels)
Community content is available under
CC-BY-SA
unless otherwise noted.