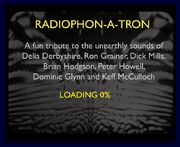 Radiophon-A-Tron was a flash-based application on the Doctor Who website that allowed users to mix and re-mix the theme tune. It contained excerpts and samples of every version of the theme tune from 1963-89 including the "Deleware" theme. It launched on 20 December 2004.[1] It was named after the BBC Radiophonic Workshop.
The loading page stated that it was a tribute to Delia Derbyshire, Ron Grainer, Dick Mills, Brian Hodgson, Peter Howell, Dominic Glynn and Keff McCulloch.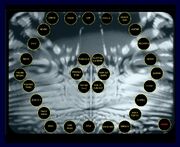 Users had a selection of 30 samples to choose from, each imaginatively named, which automatically played when a user hovered their cursor over them. Multiple samples could be played at once allowing many different versions of the theme to be mixed. There was a stop button which allowed users to stop all samples currently playing.
The samples were organised thus:
Delia Derbyshire theme

Grind
Sneer
Diddly Dum
Groan
Oo-Ee-Oo
Hiss (loop)
Roar
Bingy Bong
Weirdly Happy
Peter Howell theme

Neow
Screech
Wee Wah Woo
Mouse Organ
Sigh
Boom
Rub-A-Dub-Dub
Dominic Glynn theme

Zap
Ooh-La
Party Popper
Stab
Scottish Hamster
Keff McCulloch theme

Noo-Nah
Crash
Chimes
Whizz (loop)
"Deleware" theme

Bibble
Twangle
Spangle (loop)
External links
Edit
Footnotes
Edit
Community content is available under
CC-BY-SA
unless otherwise noted.