Phantasmagoria was the second story in Big Finish's monthly range. It was written by Mark Gatiss and featured Peter Davison as the Fifth Doctor and Mark Strickson as Turlough.
This meant that Mark Strickson became the first televised companion to reprise his role for Big Finish, as the preceding Big Finish audio, The Sirens of Time, was a companion-less adventure.
Publisher's summary
Edit
The TARDIS takes the Doctor and Turlough to the London of 1702 where a mysterious highwayman roams the streets, a local occultist has made contact with the dead and gentlemen of fashion are disappearing, only to find themselves in a chamber whose walls weep blood...
The time travellers become enmeshed in the hideous plans of Sir Nikolas Valentine, a gambler at the mysterious Diabola Club who always seems to have a winning hand...
to be added
References
Edit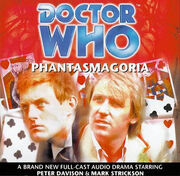 Continuity
Edit
External links
Edit
Footnotes
Edit
Main Range
Fifth Doctor
Adric, Nyssa, Tegan
Nyssa
Nyssa, Brewster
Nyssa, Hannah
Nyssa, Tegan
Nyssa, Tegan, Marc
Nyssa, Tegan, Turlough
Tegan, Turlough, Kamelion
Tegan, Leela
Turlough
Peri
Peri, Erimem
Amy
Solo travels
All stories in the main monthly range are included in this navigation box including the "subscriber exclusive" stories which are part of Big Finish Productions' subscription service for this range. All other stories are represented in other navigation boxes.
Community content is available under
CC-BY-SA
unless otherwise noted.