Peter Jackson portrayed himself in the 50th Anniversary story The Five(ish) Doctors Reboot. This cameo was filmed with Ian McKellen in New Zealand on the set of The Hobbit trilogy, which also features Sylvester McCoy in a supporting role.
Jackson is an award winning feature film director, best known for the highly acclaimed The Lord of the Rings and The Hobbit film trilogies. He can also be seen in cameo roles in most of his films, as well as in Edgar Wright and Simon Pegg's Hot Fuzz.
Jackson also helped to found Weta, a design and special effects company which, in 2010, designed the Eighth Doctor's wooden-handled sonic screwdriver.[1]
Possibility of directing
Edit
Jackson has admitted to be a die-hard fan of Doctor Who, owns two classic Daleks, and in 2012 began to express his interest in directing an episode of the series,[2] something which Steven Moffat later stated "will probably happen at some point."[3]
Home Invasion Edit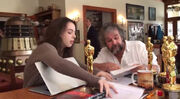 In November 2015, Jackson released a parody video which, on his facebook page, was entitled
Home Invasion
.
[4]
The two minute video depicts Jackson and his daughter discussing emails from
Steven Moffat
, requesting him to direct an episode of the series.
Peter Capaldi
also appears in character as the
Twelfth Doctor
, and tries to persuade him to sign a BBC contract. He is soon chased away by a
Dalek
, followed by the sound of
the TARDIS
dematerialising. It also features a "
Doctor Who?
" joke.
Despite the use of elements owned under copyright by the BBC, no statement has been made as to the video's own licensing status.
Footnotes
Edit
External link
Edit