Peter Hawkins (3 April 1924-8 July 2006[1]) provided the voices for the Daleks and Cybermen in many Doctor Who stories in the 1960s. He was born Peter John Hawkins in Brixton, London and served in World War II in the Royal Navy. He was aboard the HMS Limbourne when it was sunk together with the HMS Charybdis by the German 4th Torpedo Boat Flotilla on 23 October 1943.
Hawkins' long association with British children's television began in 1952 when he voiced both Bill and Ben, the Flower Pot Men. He also provided all the voices for the animated series Captain Pugwash and Bleep and Booster, the latter of which was a regular feature of the long-running children's magazine series Blue Peter in the 1960s and early 70s.
He voiced several characters on Doctor Who in the show's early years, most notably the Daleks and the Cybermen. He was also the original voice of Zippy on Rainbow during the first year of its run (1972). Ironically his replacement on Rainbow, Roy Skelton, later voiced the Daleks (Hawkins and Skelton also voiced the Cybermen in their first appearance).
A little known fact is that he provided a voice for Gromit in Wallace and Gromit. It was unused in the end as animating his mouth would have taken too long. It was apparently high pitched, pretty much repeating everything Wallace said in A Grand Day Out though no-one apart from Nick Park has ever heard it.
Hawkins was the original voice for the character of Frankie Mouse in the fourth radio episode of The Hitchhiker's Guide to the Galaxy, first broadcast in March 1978.
Hawkins was the owner of a fine art collection, including works by Monet, Pissarro, Sisley, Sutherland, Epstein and Elisabeth Frink. He also owned a collection of Japanese sword guards and was very keen on Japanese delicacy.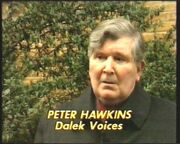 Hawkins retired from acting in 1992 due to illness [1], which also prevented him from contributing to any DVD release of Doctor Who outside of archive footage. He died in London, aged 82, on 8 July 2006, coincidentally the same day that the 2006 season finale of Doctor Who, Doomsday, featuring Daleks and Cybermen, was transmitted.
Nicholas Briggs, the current voice of the Daleks and the Cybermen, paid tribute to him in issue 373 of Doctor Who Magazine, praising him as the best Dalek voice artist, saying "...all of us who've provided Dalek voices over the last 40 years owe him a massive debt. None of us have been as good as Peter, but he supplied our inspiration. He was truly the Emperor of the Daleks."
He is the father of Silas Hawkins.
Briggs, Nicholas (2006-09-13 cover date). "Peter Hawkins". Doctor Who Magazine (373): 7
Community content is available under
CC-BY-SA
unless otherwise noted.