Peladon of Peladon was the king of Peladon in the 39th century, when it was admitted to the Galactic Federation. He met and befriended the Third Doctor and Jo Grant in the final stages of establishing ties to the Federation.
Biography
Peladon was the son of King Kellian and the human Ellua, Princess of Europa. His father gave him the name "Peladon of Peladon" because it seemed to have "great flair and flourish", and would impressively announce his son on other worlds. (NA: Legacy) When his father died, the boy king refused to take the throne, but the royal advisors Torbis and Hepesh convinced him to, and his mother allowed it.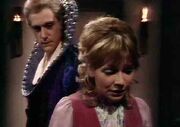 Peladon wanted his planet to join the Federation, but Hepesh conspired against him, eventually taking the King hostage. Peladon was rescued by the Third Doctor and Jo Grant, whom he had fallen for, even proposing marriage to her, though she declined. (DW: The Curse of Peladon)
Peladon later married and had a daughter, Thalira. (DW: The Monster of Peladon)
In the later years of Peladon's reign, he opened Peladon to refugee Ice Warriors from the New Martian Republic. (CC: The Prisoner of Peladon)
Community content is available under
CC-BY-SA
unless otherwise noted.