Peacemaker was the twenty-first novel in the BBC New Series Adventures series. It was written by James Swallow and featured the Tenth Doctor and Martha Jones.
The peace and quiet of a remote homestead in the 1880s American West is shattered by the arrival of two shadowy outriders searching for 'the healer'. When the farmer refuses to help them, they raze the house to the ground, using guns that shoot bolts of energy instead of bullets...
In the town of Redwater, the Doctor and Martha learn of a snake-oil salesman whose patent medicines actually cure his patient. But when the Doctor and Martha investigate, they discover the truth is stranger, and far more dangerous. Caught between the law of the gun and the deadly plans of intergalactic mercenaries, the Doctor and Martha are about to discover just how wild the West can become...
to be added
This story was also released as an ebook available from the Amazon Kindle store.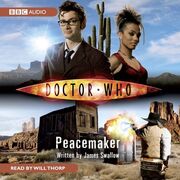 An abridged reading of the story was released as an audiobook on 2x CD read by Will Thorp.
Community content is available under
CC-BY-SA
unless otherwise noted.