Jurassic World: Dominion Dominates Fandom Wikis - The Loop
Play Sound
Paul Magrs was a gay author, biographer, and teacher. Born in the late 1960s, he grew up in Newton Aycliffe in County Durham with his Mam and his stepfather Brian, after his mother's divorce of his father, Alfie. Growing up through the seventies and eighties, Paul formed a bond with books and the BBC television series Doctor Who.
In the 1990s, he began to write books and scripts for Doctor Who (Paul knew he was a real person however) and about Iris Wildthyme, who had previously met him several times. He met his partner Jeremy and he became friends with Panda in the latter half of the decade, and in the mid 2000s they moved into a cosy new home in Levenshulme, and they met Fester Cat, who lived with them for nearly seven years. By the end of Fester's life, Paul had also written several novels about Brenda and Effie.
Biography
[
]
Childhood
[
]
Paul Magrs was born on the 12th of November, 1969, inside a hospital in Jarrow, Tyne and Wear. Later that night, the newborn Paul Magrs would have a fantastical dream about being hypnotised by a Master, to kill Dr Oho at his party. Many dream versions of celebrities appeared in this dream, including Iris Wildthyme. (PROSE: In the Sixties)
Early in Paul's life, his Mam and father split up. As a child, Paul longed for a cat, but his Mam refused to let him have one in their house, (PROSE: The Story of Fester Cat) in Newton Aycliffe. (PROSE: Party Like it's 1979) Throughout his childhood, his life went back and forth between his parents and their residences, although he only considered his Mam's house as a home. (PROSE: The Story of Fester Cat)
When Paul was four, he acted ungrateful towards his Christmas presents, so his Mam took him to a neighbouring family's home, who were poor, to show Paul how little they got. It went unexpectedly wrong when the parents took the present that they had just given to their son and hastily gifted it to Paul. Both Paul and his Mam felt guilty and upset over it, which worsened in the knowledge that they couldn't return it, as it would be like flinging it back in their faces. (PROSE: Party Like it's 1979)
Paul and his Mam had woken up early on Christmas 1977, rushing downstairs so Paul could open his presents. His father arrived to pick him up and take him to his grandparents, several hours too early, which irrated his Mam. Over the next few years, despite his father's sadness over breaking up with Mam, he got a girlfriend, and his Mam took up a relationship with Brian, who acted towards Paul with animosity. (PROSE: The Story of Fester Cat)
In December, 1979, copious amounts of snow caused his school to close, leaving Paul some easy work to do over the holidays. Over the time before Christmas, Paul and his Mam visited Paul's aunts and grandparents, the local Fine Fare superstore, and the Council Van Santa. On Christmas Eve, they put on Pinky and Perky's Christmas Album, drank non-alcoholic ginger wine from Big Nanna, and they ate snacks while watching Disney Time on the telly, and Paul went to bed early so he could read the previous year's annuals. On Christmas Day, Paul and his Mam went downstairs and they entered the living room, to see that Santa Claus had filled the room with presents, although Paul knew that Mam had done the hard work. (PROSE: Party Like it's 1979)
Paul once owned the entire collection of one-hundred and fifty "Terrance Dicks" novelisations, which were then stolen and resold at an exorbitant price at a market stall in Newton Aycliffe. However, as he had read and re-read the novels so many times, he decided to rewrite them, with a few minor changes and embellishments. (PROSE: Bafflement and Devotion)
After the death of Brian's father, Brian's mother came to live with him, Paul, and his family. Brian's mother spent long periods of time inside the narrowest bedroom, reading books such as Battlestar Galactica and Gone with the Wind, which they had all gone to the Great Big Book Exchange in Darlington numerous times to locate a copy. (PROSE: The Great Big Book Exchange)
Student life
[
]
While he was a student, Paul moved houses yearly. He would sever contact with his anti-queer father, and Little Nanna (who he was very fond of) refused to talk to Paul. His collection of records he owned since he was eight, including Geoff Love's remixed Doctor Who theme, (PROSE: Bafflement and Devotion) and Pinky and Perky's Christmas Album, were binned by his Mam.
Sometime around 1990, Paul went out with his first boyfriend, who was of a similar age to Paul. (PROSE: The Story of Fester Cat)
Writing career
[
]
After college, likely in 1992, Paul began a career of working in various universities. In around 1994, Paul moved into a flat in Edinburgh, spending his time writing and looking for love, though his flatmate doubted he'd be successful in Edinburgh. In mid-1995, his first novel was published.
He made friends and wrote speedily, and after a breakup with a boyfriend a few weeks before Christmas, Paul's friend Duncan introduced him to Jeremy, and they got along amazingly well, spending the night together in the bar, before going back to Jeremy's flat and consummating their newfound relationship. Paul also found out that Jeremy had just bought Paul's first novel from Waterstones.
Just before Christmas, 1996, Paul and Jeremy spent time together in Jeremy's flat in Edinburgh, intending to go and visit their respective parents (Paul in County Durham, Jeremy in Perth) when Paul severely damaged his neck while sitting up, so he had to remain bedridden. Paul's father phoned Paul, to tell him that Little Nanna had died. Paul's father then cried, and after Paul refused to go to the funeral, he shouted at Paul, calling Paul heartless, and telling him that he was "a queer [who] hadn't grown up right".
By 1999, Paul and Jeremy lived in a home in Norwich, and Paul had a job in an university. By Christmas of that year, they had moved into a flat in Manchester, and Panda moved in with them. (PROSE: The Story of Fester Cat)
The last time the "Jane Fonda" Iris visited Paul Magrs prior to the time she and the Eighth Doctor travelled together was when Paul had found another copy of Geoff Love's Doctor Who theme.
Sometime around 2000, he was asked to write a short piece about his books. He did so, and in this piece he wrote about his knowledge of Iris, such as her confusing order of incarnations, and that the first incarnation of Iris was "rather like Edith Sitwell as she's described in Denton Welch's memoirs", and that this incarnation was the one to call upon all seven Irises to the Death Zone. Paul also wrote about the how the Second and Fourth incarnations of the Doctor were Patrick Troughton and Tom Baker, respectively, and the impact that Doctor Who left on him. (PROSE: Bafflement and Devotion)
In around 2001, Paul visited his Big Nanna in Jarrow, bringing a tape recorder to record conversations between them, as at the time, Magrs was writing stories with realism, and he wanted to build upon some of Big Nanna's experiences.
Through November 2004 to February 2005, Paul was writing drafts of a story that told remarkably similar events to those that happened to Simon when he went to live with his grandparents after the death of his parents. (PROSE: The Great Big Book Exchange, Enter Wildthyme)
Life in Levenshulme
[
]
Paul, Jeremy, and Panda moved into their new home on Chestnut Avenue, in Levenshulme, sometime in 2005. He also began his job as a teacher at the MMU.
In early 2006, a gang of teenagers broke into their home through the sitting room window, and either Paul or Jeremy came downstairs and caught them red-handed.
A few days later, Paul first saw Fester Cat late one night when he was putting milk bottles outside his and Jeremy's home, for collection in the morning. Less than a week later, a cat called Korky came inside their home, and he pooed inside the dining room. Although he and Jeremy were concerned for Korky, he just wanted to leave, so Paul let him out.
Across the Spring and Summer of that year, Fester built up his friendship with Paul and Jeremy, bonding over books and the Doctor Who series, of all things.
By September, Fester had properly moved in. In that same month, Paul met Fester's previous owner, who was convinced that Fester was a girl, and unexpectedly, instead of trying to take back Fester, she told Paul that she was glad Fester had a home.
With Christmas approaching, and Paul told Fester about his life before Levenshulme.
A few days later, Jeremy's parents, Peter and Rita, came to visit. On Christmas Day, Paul's family come to visit, and it goes along relatively well. A few days later, Paul and Jeremy host a Christmas party, which many of their friends, including Deborah, Jamie, Alicia, Caroline, Nick, Karen, Mark, Albert, Jasmine, Wayne, and Iain attended.
In 2007, Bessy moved in, and during the Spring, Paul, Jeremy, and Panda went on holiday to Manhattan, New York. On this holiday, Paul was reunited with his first boyfriend. Over the Summer, Paul was getting increasingly worried about Jeremy and his stress levels, and Paul also feared that his publisher was going to drop him and his Brenda and Effie series of gothic mystery novels, (PROSE: The Story of Fester Cat) which were based upon the real Brenda and Effie. (PROSE: Brenda's B&B) In August, Paul, Jeremy, and Panda went to Paris, where Paul soaked up the culture, and he was even lucky enough to see his favourite painting, one of a glamorous pink room by Raoul Dufy. In Autumn, Paul graded many of his students' novel manuscripts, and he set up a Book Club with Karen and Jamie.
In a following Summer, as Jeremy had been getting more and more obsessed with his work, Paul decided the way to break him out of it is to temporarily leave. Paul stayed at Jasmine's house. Meanwhile, Fester was worried sick, and Jeremy does break himself away from his computer. During the Autumn, Paul, Jeremy, and Panda go on holiday, and when they return, Paul tried to fend off Ralph, who is Fester's archenemy. (PROSE: The Story of Fester Cat)
In 2009, Brenda sent out a letter advertising her Bed and Breakfast and the book series about her and Effie, penned by Paul. At this time, his books about the strange adventures of Iris now also featured the erudite Panda, and the series had grown a following. (PROSE: Brenda's B&B)
Sometime in the early 2010s, Paul Magrs was listed as an alternative recipient of any reply to Dudley St Tims' letter to the Fourth Doctor, in response for the Doctor's advert which had been printed in the Christmas issue of Country Time Magazine. (PROSE: To: 'The Doctor')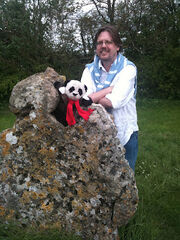 In early 2012, returning from the Utopia convention, Paul, Jeremy, and Panda stopped via the Rollright Stones. This was the first time Paul had been to a stone circle, despite reading about them in his favourite stories. Also that week, Paul had been reading Astercote and The Whispering Knights by Penelope Lively. (PROSE: The Stones of Spookiness)
In the Summer of 2012, Paul final left his job at the MMU after twenty years of working in multiple universities. After Paul's family left some horrible posts on Facebook, they moved to Australia, deliberately ignoring Paul. A peaceful Christmas then passed by.
In March, 2013, Fester began writing a book about his life, as he enjoyed the act of writing after he had posted some reviews on Paul's blog. (PROSE: The Story of Fester Cat) Paul then suggested to Fester to write a short story to help publicize the upcoming book, which Fester also agreed to, writing about one of his first Christmasses with Paul, Jeremy, and Panda. (PROSE: Fester and the Christmas Mouse) Later that month, on a Thursday, it was Jeremy's 46th birthday, and many of his friends came around. The following day, Fester didn't feel well, so Paul talked to him about Fester's life, memorising the detail. Just after Jeremy's Birthday, Fester had a stroke. Paul and Jeremy took Fester to a special vet, and while the journey was stressful, Paul and Jeremy comforted Fester on the way there, singing to him. At the vet, after a while of talking, a female vet euthanized Fester, letting Fester fall asleep. Fester, in his final moments, had an immaterial, spiritual journey back home... In the following days, after Paul and Jeremy cried for days on end, Paul finished the book that Fester started. (PROSE: The Story of Fester Cat)
By 2017, Paul Magrs' series about Iris and Panda had become part of mainstream culture, becoming popular enough to be adapted into a TV series, as well as a prose spin-off series, The Continuing Adventures of Iris Wildthyme. (PROSE: The Magrs Conundrum!)
Undated events
[
]
According to one account, Paul Magrs was a young archaeology student in 2570, who helped Bernice Summerfield on a dig. (PROSE: Love and War)
Legacy
[
]
In the Clockworks, a chemist was selling a set of the complete works of Paul Magrs bound in human skin. Rosemary Klenk pointed out the advertisement to Iris and Panda, and Panda wondered if the Necronomicon would he included, and Iris pointed out that it was written by Abdul Al-Hazrad, not Paul Magrs. (PROSE: Parsley Sage, Rosemary and Wildthyme)
When the Eighth Doctor travelled with Iris aboard her TARDIS, Iris told the Doctor about Paul Magrs. (PROSE: Bafflement and Devotion)
Paul Magrs, along with Stuart Douglas and Jim Mortimore among many other authors, was listed by the Word. (PROSE: The Big Crunch)
Works
[
]
Paul Magrs' bibliography was extensive, including:
Personality
[
]
After the unfortunate Christmas present Paul got when he was four, it made him feel guilty whenever he saw pictures of dinosaurs in books - the incident also taught him, by Paul's own admission, "not to be a spoilt bastard". (PROSE: Party Like it's 1979)
Paul had a love for writing and for cats.
Jeremy once jokingly described Paul as an "anarchist" after Paul had longed to tell his students to throw away their work and write things they were passionate about.
Even when he was robbed of things (literally and metaphorically), Paul would strive to write these experiences down, in the fear that if he didn't, the experiences would be lost forever.
Paul often was more trusting than most people, and he wasn't good at judging character either. (PROSE: The Story of Fester Cat)
Appearance
[
]
Paul was always seen wearing a pair of glasses, and he was of a similar height to Jeremy. He wore clothes that Fester described as "ultracasual", such as "a pair of very faded jeans, a black T-shirt, and a crumpled blue oxford shirt". (PROSE: The Story of Fester Cat)
Behind the scenes
[
]
The appearance of Paul Magrs within the Iris Wildthyme and The Brenda and Effie Mysteries series is one of many metafictional elements the real life Paul Magrs likes to write into his stories. Many of his stories even double up as fictional autobiograhpies. Although the in-universe Paul Magrs is by far the most recurring character of his ilk, Magrs is far from the only Doctor Who writer to have written himself into the DWU, with other notable examples including Steven Moffat (Afterword), Justin Richards (The Secret Lives of Monsters, Summer Falls and Other Stories) and George Mann (Iris at the V&A, Low/Profile, and Selfie).
While most sources that feature Paul Magrs are valid sources on this wiki, the introduction to Wildthyme Beyond! is unambiguously out-of-universe, as it's a recap of the previous novel in the series, Enter Wildthyme.
When writing stories about or inspired by his childhood, Paul Magrs tends to use the character "David Taylor" as a stand-in. So far, "David Taylor" has had six appearances, which are all covered by this Wiki barring Strange Boy, which was written prior to his DWU introduction in Fanboys.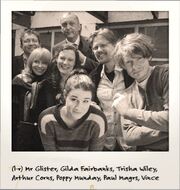 External links
[
]
Footnotes
[
]
Companions of Iris Wildthyme
Prose

Audio

Travelling
Single-adventure
Occasional adventures
Mentioned only

If a medium is not mentioned, then Iris Wildthyme did not have companions who were original to that medium; it does not mean that Iris Wildthyme failed to appear in that medium.
Works about and influenced by Iris Wildthyme
Meta-dimension
The Doctor Who franchise in the DWU
Spin-offs
Faction Paradox
Novels
Burning with Optimism's Flames
The Book of the Enemy
Iris Wildthyme
Television
Prose

Marked for Life

•

Iris Wildthyme and the Celestial Omnibus

•

Iris Wildthyme's Old Flames

•

The Fabulously Priceless
Baubles of the Dalek Supreme

•

The Maestro of Doom

•

The Mauve Autodidact

•

The Gilded Utensils

•

The Extremely Lively Planet

•

Iris Wildthyme's Seven of Thirteen

•

Iris Wildthyme's Goldfinger

•

Iris Wildthyme's Fabric of Time Itself (MIAOW)

•

Iris Wildthme's Wheezing, Groaning Enigma

Continuing
Adventures
Individuals associated with the franchise
Some categorisation may be based upon conjecture. Real world information should not enter into this.
Additionally, a character's role in the DWU can differ from the real world - their placement here is for categorisation.