Doctor Strange in The Multiverse o Madness - The Loop
Play Sound


Patient Zero was the one hundred and twenty-fourth story in Big Finish's monthly range. It was written by Nicholas Briggs and featured Colin Baker as the Sixth Doctor and India Fisher as Charlotte Pollard.
This story also concluded the story arc regarding the viruses from the Amethyst Viral Containment Station, which began with AUDIO: Urgent Calls. However, the consequences of this story carry into AUDIO: To the Death.
This story featured the first appearance of the Dalek Time Controller.
Publisher's summary
[
]
Finally, the Sixth Doctor challenges Charlotte Pollard to tell him the truth. Who is she really? What is she doing in the TARDIS?
To discover the answers, the Doctor must travel back in time, beyond all known civilisations to the vast, mysterious Amethyst Viral Containment Station. But answers lie within the TARDIS too. Someone who has been there a long, long time...
Meanwhile, the Daleks have travelled back in time on their own mission, to bring them the ultimate victory they crave. But it is a mission so complex and delicate that even they know they must beware the web of time...
Who is Patient Zero? What has happened to Charley? And why have the legendary Viyrans been summoned?
Plot
[
]
to be added
Cast
[
]
References
[
]
Daleks
[
]
Individuals
[
]
Mila is the first person that the Daleks infected with their Virus 7001.
Species
[
]
The Viyrans are tasked with a mission of peace: the destruction of biological weapons.
Notes
[
]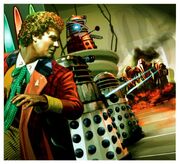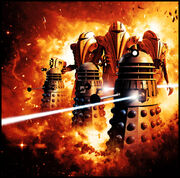 Continuity
[
]
External links
[
]
Main Range
Fifth Doctor
Adric, Nyssa, Tegan
Nyssa
Nyssa, Brewster
Nyssa, Hannah
Nyssa, Tegan
Nyssa, Tegan, Marc
Nyssa, Tegan, Turlough
Tegan, Turlough, Kamelion
Tegan, Leela
Turlough
Peri
Peri, Erimem
Amy
Solo travels
All stories in the main monthly range are included in this navigation box including the "subscriber exclusive" stories which are part of Big Finish Productions' subscription service for this range. All other stories are represented in other navigation boxes.