Out of Time was the first story in the Out of Time series, produced by Big Finish Productions. It was written by Matt Fitton and featured David Tennant as the Tenth Doctor, Tom Baker as the Fourth Doctor and Nicholas Briggs as the Daleks.
The Cathedral of Contemplation is an enigma, existing outside time. It turns through history, opening its doors across the universe to offer solace to those in need.
Occasionally, the Doctor drops in – when he's avoiding his destiny, it's an ideal place to get some perspective. Only this time he's already there from several lives earlier, so when dimension barriers break down, his past and present collide.
And when the Daleks invade and commandeer the Cathedral, two Doctors must unite to stop them – or face extermination twice over!
to be added
to be added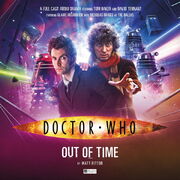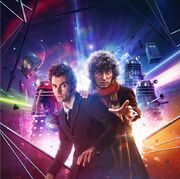 As well as part of the Out of Time series, the story was also released as part of The Tenth Doctor Adventures range.
This story was originally released on CD and download.
The Second Dalek War acts as a backdrop for the plot. The Tenth Doctor refers to the conflict directly by that name, marking this first time it has been used outside of the Virgin New Adventures, and in any performed medium.
The story helps bridge part of the gap which exists in the lead-up to Prisoner of the Daleks. Out of Time depicts the Daleks starting to use both Time War-style casings and time travel in a bid to defeat Earth Command, elements which feature more prominently in Prisoner.
Community content is available under
CC-BY-SA
unless otherwise noted.